Dubai construction firms bullish on year ahead
Construction firms in Dubai remained strongly optimistic regarding the 12-month outlook as business conditions in Dubai's non-oil private sector economy continued to strengthen in February, at a similar rate to January, according to latest data provided by Emirates NBD Dubai Economy Tracker.
Construction, a key sector in Dubai, continued to report growth of new contracts in February. The rate of expansion accelerated from January's 27-month low, but was still weaker than in any other month over the same period, and much slower than the rise in total construction activity, the report said. Although sentiment slipped from January's record high, it was still among the highest on record. Growth of construction activity accelerated for the second month running in February, to the fastest since the record pace achieved last November. The seasonally-adjusted Business Activity Index was the fifth highest on record.
"Workforce growth at construction companies was maintained in February. The seasonally adjusted Employment Index eased since January to 50.7, however, indicating only a marginal rate of job creation," said the report.
The data continued to point to subdued cost pressures in Dubai's construction sector. The seasonally-adjusted Input Costs Index rose from January's seven-month low of 51.0 to 51.8, but still signaled a weaker rate of inflation than the long-run series average. According to analysts, with the deadline for completion of several projects before Expo 2020 Dubai looming, construction activity is set to pick up. According to Lodging Econometrics' year-end Global Construction Project Trend Report, Dubai had a pipeline of 168 hotel construction projects with 49,950 rooms as of 2018, ranking it second in the list of global cities with the largest hospitality pipelines, only behind New York City's 171 hotels with 29,460 rooms.
"Prices charged by construction companies rose for the second month running in February, but at a rate which remained only marginal. Previously, charges had fallen throughout the last four months of 2018," said the report. Total business activity in Dubai rose at the fastest rate in nine months, while new business increased at a pace that remained above the 2018 average despite easing since January. Employment, however, fell at the fastest rate since the survey began in 2010. The seasonally-adjusted Emirates NBD Dubai Economy Tracker Index was unchanged from January's seven-month high of 55.8 in February, signalling a strong improvement in business conditions that was faster than the trend for 2018. While companies in the wholesale and retail sector reported the firmest volume growth in February – although with greater price discounting than in January – travel and tourism firms in Dubai remained strongly optimistic regarding activity levels over the next 12 months in February. The headline index for the wholesale and retail sector rose to an eight-month high of 58.1, above the comparable figure for the travel and tourism sector (56.8, a nine-month high). The third key sector monitored – construction – also registered a stronger performance in February (54.0).
Khatija Haque, head of Mena research at Emirates NBD, said the growth in the volume of output and new work has been underpinned by continued price discounting, particularly in the wholesale and retail trade sector.
"Firms' margins continue to be squeezed as selling prices have declined on average for the last 10 months, while input costs have increased over the same period. As a result, rising new orders have not translated into increased hiring and job growth in the private sector. Indeed, employment declined at the fastest rate on record in February."
The report said the data signalled a rise in business activity in the non-oil private sector. Moreover, the rate of expansion accelerated to the fastest since May 2018. Wholesale and retail posted the strongest growth among the three key sectors.
"However, the rate of contraction in workforce was the strongest registered since the series began in January 2010, despite faster activity growth," it said.
Saudi Arabia to start first phase of Neom project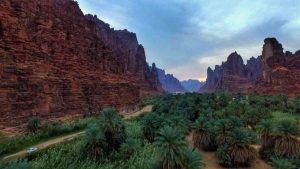 Construction on Saudi's $500bn (SAR1.9tn) Neom gigaproject will start in Q1 2019, officials announced on 16 January, 2019.
The Neom Founding Board, chaired by Saudi Arabia's Crown Prince HRH Prince Mohammed bin Salman bin Abdulaziz, approved the strategic concept of the master plan for Neom Bay, the first urban area to be developed within Neom, as reported by Saudi Press Agency (SPA).
The board gave "gave instructions to complete preparations and start construction work in the first quarter of 2019", the state-news agency added.Work on Phase 1 of Neom Bay will be completed in 2020. It is expected that a number of key facilities will be completed by the end of this year, including the current airport at Sharma, which will be upgraded to become a commercial airport operating regular flights between Riyadh and Neom.
Speaking on the news, Nadhmi Al-Nasr, chief executive officer of Neom, said 2019 will be "milestone" in the megaproject's journey.
He added: "The strategy of developing Neom Bay will rely on four key pillars that will be ingrained in the entire project development, with sustainability at the heart of aspect of the project.
"The first is to provide a living experience and an ideal quality of life for families; the second is to create a high-end lifestyle and a luxurious tourist destination; the third and fourth pillars are to support both innovation and creative centers in order to achieve Neom's economic goals."
Earlier this week saw another first at Neom when a Saudi Arabian Airlines (Saudia) flight, carrying 130 of its staff, landed at Neom airport in Sharma, located in the Tabuk region.
Backed by Public Investment Fund, which is led by Saudi Arabia's Crown Prince HRH Mohammed Bin Salman, Neom maps the kingdom's long-term aspirations through 16 economic sectors.
Stable prices of construction materials offer respite to UAE builders
Three months into the year, the UAE's construction sector is having a much smoother ride, and it's not just related to the pickup in activity related to the Expo 2020 works. Instead, it is the relative price stability on building materials that is offering the much-needed respite.
One only needs to look at how aluminium has been faring. In May last year, the metal was commanding $2,700 a tonne on the LME (London Metal Exchange) — now it can be had for $1,841 after being at $2,000 as recently as December 20. As for local contractors, the softening price — and the belief is it will remain under pressure — will sit well on their project costs. And there is quite a bit of that happening.
"There is definitely new activity being pushed by the Expo requirements and we are still seeing that in our recent orders," said Christian Witsch, CEO at Gulf Extrusions. "But building material suppliers and contractors need to start thinking about the next big event once all the Expo-related supplies and works are done.
"That's what we need to start looking out and preparing for — the next big event in the UAE."
The sharp upswing in aluminium prices in May last year was brought on by factors outside the scope of the industry. In short, politics was what dictated the volatility. in particular, the US sanctions on Russia's Rusal — the world's largest aluminium producer outside of China. (Early this year, the sanctions were rolled back by President Trump.) "Last year changed my perception that LME price was only driven by effects happening only within the industry," said Witsch. "But in 2018, the main driver was political forces."   Gulf Extrusions currently has an annual installed capacity of 50,000 tonnes, of which it currently utilises about 40,000 tonnes. The bulk of its production is used as "architectural solutions" by the local construction sector. Drive down Shaikh Zayed Road and chances are that one or the other tower will have been supplied by the manufacturer, including the Burj Khalifa. Witsch says the sector needs to start preparing for life after the Expo. "When the Expo impact gets less visible in our own offtake, we already have measures in place to grow in other markets," he added. (Currently, exports make up 10 per cent of its output. It has also been raising its supply of value-added extrusions to the global automotive industry. Gulf Extrusions is currently rated as a Tier-2 supplier and is now working to upgrade it to Tier-1.) 
And what of steel? The UAE in January doubled import duties on steel debars (deformed bars) and pipe rods to 10 per cent, a move that met the long-standing demands of local steel mills to take action against steel dumping from China and Turkey.
"The Ministry of Economy understood the need to support local steel manufacturing that has invested billions in the industry," said Bharat Bhatia, CEO of Conares, which operates a mill in Jebel Ali. "Current steel consumption in the UAE is between 3.2 million to 3.5 million tonnes, while local production of deformed steel is about 4 million tonnes.
"Imports currently are arriving only from the GCC, but due to quicker delivery, most projects are demanding "Made in UAE" products. Even traders prefer to stock local as they can get it 24×7 and in the required lot size."
For now, steel prices are at around Dh2,000 plus. As for cement, "They have been stable for the last seven months or so, and that's because local production had increased capacity quite significantly," said Mohammad Farooq, Managing Director at Dubai Walls Construction. "These days, a 50-kg bag could be bought for Dh12.2 from Dh12.5-Dh12.7.
"But the biggest plus for local contractors and suppliers has been the relaxing on visa requirements to bring in additional manpower. Paying deposits to source manpower was where a lot of the cash flow of contractors were getting stuck. Now that the UAE authorities has relaxed this, it puts contractors in a much better situation. That's a huge relief, no doubt."
After a tough 2018, the local construction sector will take any break that comes its way. Local manufacturers seek tax support on other building materials now that the UAE has raised import duties on steel, local building supply manufacturers are hoping the local and GCC authorities would extend it to other product categories as well.
The GCC Secretariat recently instituted a "safeguard duty" on painted, varnished or plastic coated for a three-year period, with the duty set at $169 a tonne and then reducing thereafter. Market sources say they are awaiting for these measures to be applied at the local level. "In regards to colour coated, since the GCC has imposed safeguard measures we are expecting the same to be applied in UAE," said Bharat Bhatia of Conares. Also, the import duty on pipes could be looked into as well, according to Bhatia. "Domestic manufacturers would also like to have support from the authorities in protecting pipe and tube manufacturers. "Scaffolding companies are currently exempted from import duties — this practice should stop.
"Scaffolding companies don't add any value on pipes. Only true value-added products should be exempted. The UAE has 2 million tonnes of installed capacity on pipes and tubes, and it would help if duties are raised to 10 per cent."
Saudi Arabia's Prince Turki unveils multibillion-dollar Asir projects
According to Saudi Press Agency (SPA), Prince Turki said the projects cover sectors such as health, transport, and municipal services.
Major transport projects announced include the construction of the Asir-Jazan road at a cost of $1.6bn (SAR6bn); and the $1bn (SAR4bn) expansion of the coastal road between Jeddah and Jazan, which will link Asir to Makkah and Jazan, providing shorter journey times.
Among the recently progressed Saudi Arabia construction projects is the expansion of Abha Airport's terminals to increase its capacity from 1.1 million passengers a year to 2.5 million. Plans also include increasing the number of boarding gates for domestic flights to four and for international flights to two.
According to an Arabic-language report by SPA, another significant completed project in Asir is the 1,000-bed King Faisal Medical City, which features a specialised hospital, a cardiac centre, a tumour centre, and a centre for neurological sciences for children. The facility will reportedly serve Asir and the Baha, Najran, and Jazan regions.
The projects follow directives by Saudi Arabia's Crown Prince, Vice President of the Council of Ministers, and Minister of Defence, HRH Mohammed bin Salman bin Abdulaziz, to raise the quality of medical services and the efficiency of road and air traffic in the kingdom.
The news comes amid of flurry of infrastructure announcements from the kingdom's senior leadership. Last month saw King Salman bin Abdulaziz Al Saud, Custodian of the Two Holy Mosques approve 1,281 cross-sector development projects in Riyadh.
UAE launches $8.7bn housing project plan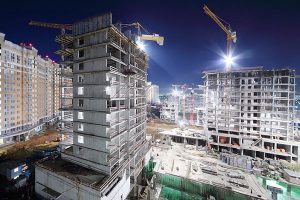 HH Sheikh Mohammed bin Rashid al Maktoum, the UAE Vice President, Prime Minister and Ruler of Dubai, has announced the launch of a massive plan that will see more than 34,000 residential units built across the country within the next six years.
Developed for the local Emirati population, the project has had funds worth $8.7 billion allocated to it, and it is expected to be completed by 2025, a report by WAM said. It added that Sheikh Mohammed had also given directives to raise the value of the salary ceiling of beneficiaries obtaining support from the Sheikh Zayed Housing Programme from AED10,000 to AED15,000.
He also issued a directive to raise the value of housing loans for citizens in government residential neighbourhoods from AED800,000 to AED1.2 million as a maximum loan amount, depending on the value of the premises.
The decisions came in the wake of an inspection tour conducted by Sheikh Mohammed bin Rashid, during which he visited a number of housing and road infrastructure projects in Ras Al Khaimah, the report said.
"We have pledged, from the beginning, to ensure that every UAE citizen is provided with a home, and that no area is left undeveloped," he said during the tour.
"The quality of housing across the country is of a unified standard," he noted, adding that housing services for UAE citizens are also unified.
"We want higher levels of competitiveness between government sectors for the benefit of Emiratis. The Sheikh Zayed Housing Programme holds a special value providing necessary services to Zayed's children," he added.
HyperloopTT to start construction on Dubai-Abu Dhabi border in Q3 2019
The proposed Hyperloop site is within Aldar's Seih Al Sderieh landbank, located on the border of Abu Dhabi and Dubai, close to the Expo 2020 site and Al Maktoum International Airport.Hyperloop Transportation Technologies (HyperloopTT, HTT) appointed a design lead for its planned project on the Dubai-Abu Dhabi border, in a major step towards making the futuristic commercial travel system a reality in the UAE. A team led by Lebanese design and engineering giant Dar Al-Handasah will begin construction of the first commercial Hyperloop system in Abu Dhabi in Q3 2019.
In addition to joining the project as design lead, the Dar Al-Handasah is also on board as investor with HyperloopTT.HyperloopTT signed an MoU with listed property firm Aldar Properties in April this year to develop a new HyperloopTT centre that will include a full scale commercial Hyperloop system, an XO Square Innovation Centre and Hyperloop Experience Centre.The proposed site is within Aldar's Seih Al Sderieh landbank, located on the border of Abu Dhabi and Dubai, close to the Expo 2020 site and Al Maktoum International Airport. Construction of the Hyperloop commercial track, as well as HyperloopTT's XO Square Innovation Centre and Hyperloop Experience Centre, is targeted to begin in Q3 2019.
"We are bringing the future of rapid transportation technology to all those living in the UAE," said HyperloopTT chairman Bibop Gresta.
Manitowoc to unveil new cranes and lifting solutions at bauma 2019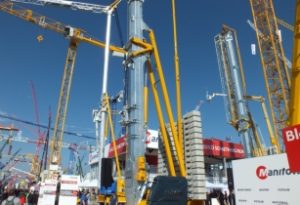 Manitowoc, one of the leading global manufacturers of cranes and lifting solutions, has announced the debut of six new models from its Grove and Potain lines at bauma 2019 in Munich, Germany. T he company will also present a technology pavilion, highlighting a wide range of customer-focused innovations. Apart from the six new cranes, Manitowoc will display more than 10 new cranes during the show from 8-14 April 2019.
At the company's stands FS 1201, FS 1202 and FS 1302/1, several new Potain cranes will be on display including those from its topless tower crane and self-erecting Hup ranges.
For Grove, Manitowoc will introduce new cranes from its all-terrain and rough-terrain lines. The company will also present new technologies for the industry, with one highlight involving a recent advancement in telematics.
Commenting on the world's leading construction equipment trade fair, Barry Pennypacker, president and CEO of Manitowoc, said, "bauma 2019 will be a great opportunity for us to connect with a large number of Manitowoc customers, which will enable us to gather the information necessary to continue our strategy of adding tremendous value to our customers."
Sources
https://www.khaleejtimes.com/business/economy/dubai-construction-firms-bullish-on-year-ahead
https://gulfnews.com/business/property/stable-prices-of-construction-materials-offer-respite-to-uae-builders-1.62552780
https://www.constructionweekonline.com/projects-tenders/169895-saudi-arabias-prince-turki-unveils-multibillion-dollar-asir-projects
http://www.technicalreviewmiddleeast.com/events/eventnews/manitowoc-to-unveil-new-cranes-and-lifting-solutions-at-bauma-2019
https://www.constructionweekonline.com/168736-saudi-arabia-future-super-city-neom-construction-start-in-2019
https://www.arabianbusiness.com/uae/406731-hyperlooptt-to-start-construction-on-dubai-abu-dhabi-border-in-q3-2019