The concept of safety culture has gained more attention in high-hazard industries as more safety practitioners see the influence that workers' attitudes and behaviors have on the causes and effects of workplace incidents. These attitudes and behaviors are shaped largely by the company's workplace safety culture and its safety systems. Here are the top two articles addressing safety around tower cranes:
Ten steps to safe and efficient tower crane erection
Manitowoc Crane Care's Didier Forest is a 32-year veteran of the company. He has co-authored several technical manuals on tower crane erection and trains Crane Care technicians at Manitowoc's Training Center in Saint Pierre de Chandieu, France. In early 2020 he developed a new program for top-slewing tower crane erection and here he lists his ten steps to getting it right on the job site.
1. Know your configuration. Before setting foot on the job site, erection teams must know the hook height and jib length of the tower crane to calculate the number of ballast blocks needed for the base and counter jib. Increasing the height or finding additional ballast mid-way through assembly will waste time and money and frustrate customers. Once the correct configuration is determined, the erection team can establish the task sequence and ensure each crew member is prepared, so things run smoother on site.
2. Secure the right assist crane. When teams understand the tower crane specifications, they can select the correct mobile crane. Too small or too large and the mobile crane will not be able to complete the job. Grove all-terrain cranes are ideal for tower crane assembly because they combine compact dimensions with a long boom and high capacity. Manitowoc also offers an online tool for quickly and easily selecting the right one.
3. Determine the optimum crane location. The tower crane must be located correctly from the start as it is difficult to move after assembly. Selecting the optimum location for the mobile crane will also save time and help prepare the site. With CRANIMAX CRANEbee Manitowoc offers a premium software solution which is perfect for this planning, as erection teams can simulate the cranes' position in 3D, and factor in surroundings such as trees, buildings or other obstacles.
4. Prepare the site. The ground at the site must be level and able to support the weight of the tower crane so that once it has been correctly set-up it is stable. This is essential for all cranes but increases in importance for bigger cranes with heavier components. The customer must level the ground before erection and the Crane Care teams will verify it. There is a two-step verification to assess the gradient – first with a laser lens and then with a ruler. Understanding ground pressure is also vital. If the ground is soft or uneven, it must be compacted or excavated and filled with steel reinforced concrete. The site owner must also provide power, site access, and (in some cases) permission for street closure. All of this must be discussed before starting the job.
5. Coordinate the logistics. Many city centers have limits on when roads can be closed, or heavy vehicles can drive downtown. In addition, each truck might require its own permit with fees for diverting the road to traffic. Both the tower and mobile crane need to arrive on site at the right time in the smallest available convoy sizes to avoid waste and waiting. That's why Potain tower cranes are designed for efficient transport in as few truckloads as possible, while Grove all-terrain cranes are easily roadable. The erection team and the customer must prepare the transport sequence and installation in advance.
6. Check the weather. Erection teams must keep an eye on the weather forecast and plan for a still day as tower cranes cannot be assembled in winds greater than 50 km/hr (31 mph). If teams begin assembly and the wind picks up, they must wait until it drops to acceptable levels (which might take hours, or in the worst cases, days). Grove mobile cranes are equipped with an anemometer to ensure the operator is constantly aware of the wind speed.
7. Respect the technical manual. With numerous heavy components, large hammers, moving pins and a secondary crane, tower crane erection requires vigilance and so procedure must always be strictly followed. In training sessions, erection teams are taught to follow every detail in the technical manuals. Potain tower cranes prioritize safe and efficient assembly, much of which can be completed at ground level, meaning fewer lifts to get the tower crane in the air. Having people harnessed in the air during assembly has inherent risks so we want to minimize this.
8. Maintain a safety perimeter. No ground crew should go within 6 m (19.7 ft) of the mast during erection, which erection teams also learn during their training. While every precaution should be taken on site, no tower crane assembly can ever be 100% risk-free – there is always a risk that objects may fall from height. As soon as ground crew see and hear the pin installation to signal the start of the process, they should keep their distance.
9. Make use of the slinging points. Every component that must be lifted on a Potain tower crane has slinging points for faster and more efficient assembly. These special loops are built into the tower crane structure so the mobile crane's lifting chains can hook onto them. Using the correct slinging points is especially important for jib erection as the components are long and heavy and must be kept horizontal. Erection teams should calculate the right slinging points for jib erection beforehand.
10. Stay calm and professional. All crews involved in the erection must be properly trained and equipped with the right tools and PPE (Personal Protective Equipment). Even with the best training and equipment, it is not always easy to stay calm on big job sites where pressure is high and challenges arise. Nevertheless, staying calm is crucial for safety. If a crane erector feels stressed or under pressure, their risk assessment and decision-making may be compromised. This can put their safety, and that of others, in jeopardy. If crane erectors are not completely sure of themselves or have doubts about the ground level or wind, they must stop assembly and explain this to the customer. People's safety remains the number one priority and should never be put at risk for the sake of getting the job done quickly.
AT NFT, Safety comes first!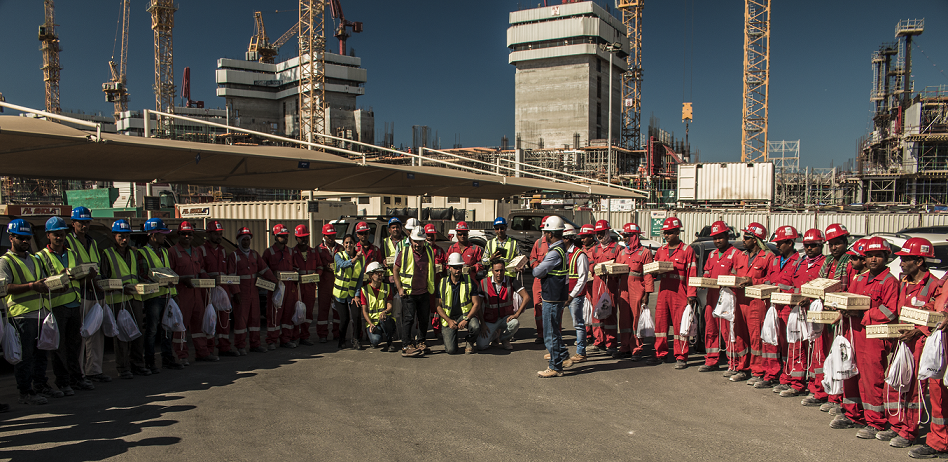 In November 2017, NFT and Potain launched the Safety First! campaign  going around client sites of NFT with a large volume of tower cranes to raise awareness on safety practices. Over a span of two years. NFT and Potain have visited 10 project sites spread across the UAE, KSA and Kuwait.
Because both NFT and Potain believe that a safety culutre is cascaded from top management down, the team was lead by NFT's senior managers: NFT's Branch Managers in each country, NFT's QHSE Manager, NFT's Operations Manager and NFT's Deputy General Manager were all active throughout the campaign. From Potain's side, Manitowoc's Director of Dealer Development and Manitowoc's Crane Care manager and Potain's Sales Coordinator were all present during the campaign.
The Safety First! training includes a 20 minute induction on how to work safely on Potain Tower Cranes, addressed to all personnel working on and around these cranes, including riggers, operators and supervisors. After the induction, everyone received a gift bag with many safety essentials, followed by lunch courtesy of NFT and Potain.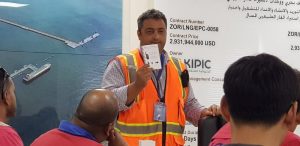 Because effective communication is crucial to creating a positive safety culture, each person was handed Potain's Tower Crane safety booklet that was translated into five languages: Urdu, Hindi, Arabia, Turkish and English. In addition, each participate received a gift bag containing CE certified safety gloves, CE certified safety glasses, first aid kit, cooling water bottle, torch, and face bandana to protect against the dust.
Seven Characteristics of a positive safety culture at work
According to David Lauriski, there are four types of safety cultures in an organization.
Negative: Negative and reactive safety systems are unable to prevent workplace safety incidents.
In a negative safety culture, it is not uncommon for workers to feel pressured to bend or break safety rules or safe work procedures to meet deadlines or production goals.
Reactive: A negative safety culture paired with a reactive safety system ensures that sooner or later the system will fail the workers it is supposed to protect, and safety professionals have begun to see this.
Positive: A major indicator of a positive safety culture is the quality and effectiveness of its communication.
Good communication in the workplace plays a critical role in achieving safety goals and preventing incidents. When communication throughout all levels of an organization is strong, open, and meaningful, a positive safety culture follows.
Proactive:  Positive safety cultures and proactive safety systems work hand-in-hand, just as negative safety cultures are cause and consequence of reactive safety systems.
So what are the characteristics of a positive safety culture?
1. IN A POSITIVE SAFETY CULTURE, NOTHING TAKES PRECEDENT OVER SAFE WORK UNDER ANY CIRCUMSTANCES. 
The workforce never feels as if safe work procedures are an obstacle to getting their tasks done correctly, on time, and without reprimand. The keyword here is "feels."
How do you get your workforce to feel the same safety priorities that you do?
Through effective communication !
If your employees are continuing to take safety risks despite your focus on making safety a priority, you may need to evaluate how effective the communication is between your company's management and its workforce. Because sometimes, the most innocent comment of urgency may influence workers to speed up, take short-cuts, and neglect existing safety practices.
If employees are under the impression, for any reason, that safety rules must be broken to achieve the results or budgets that management wants, any existing safety system, no matter how great, cannot protect them.
Rosa Antonia Carillo said it best in her article "breaking the cycle of mistrust to build a positive safety culture". She said:
"Most of the time, the pressure to put production over safety is implied, not stated. Often employees assumed that it was more acceptable to take a safety shortcut than it was to meet a deadline" – or Budget.
2. IN A POSITIVE SAFETY CULTURE, ALL PERSONNEL, FROM THE FRONT LINE TO THE SENIOR LEADERSHIP, SHARE THE SAME RESPONSIBILITY FOR SAFE WORK.
Accountability is everything!
Complacency and ineffective safety-related communication can lead to lapses in accountability if your company has a negative safety culture.  A positive safety culture shows compassion to spark positive change and does not blame or reprimand others. At a high-hazard operation with a negative safety culture, workers often feel that supervisors and company managers have little concern for their well-being. So not only do managers need to have good communication but they should be accountable.  An example of management style that does not value accountability:
People were not disciplined for failing to use proper personal protective equipment (PPE), but they were punished for accidents. 
Managers were seen walking through the plant without proper protection. Management wanted employees to remind each other to wear their PPE, but employees felt that constituted 'enforcing the rules', which is a management responsibility. 
3. IN A POSITIVE SAFETY CULTURE, THE SAFETY SYSTEM IS INFORMED BY THE WORKFORCE, NOT DESIGNED AND ENFORCED ONLY BY MANAGEMENT.
Even if you think you have a great, positive safety culture, your workers' input is critical to ensure it actually works to reduce incidents. Because it needs to be in their language and suited to their needs and the pressures of their jobs.
Workers will disregard official safe work procedures if they are difficult to understand, use technical vocabulary or jargon, or are in an entirely different language than what your workforce speaks!
Your procedures also need to reflect the experience of your workers on the job.  Operating manuals, which are supposed to direct the crew's every task, are most of the time inadequate, and hard to understand so the workers end up developing their own alternatives.
4. IN A POSITIVE SAFETY CULTURE, EXISTING SAFETY SYSTEMS ARE CONSTANTLY DEVELOPED AND IMPROVED
It is as important to have a proactive safety culture as it is to have a positive safety culture. Just because a few months went by without any safety incidents does not mean that contractors are exempted for any risk.  More and more companies are integrating impairment tests into their workplaces to proactively assess and manage safety risks due to fatigue, illness, emotional distress, substance abuse, and more.  Impairment testing is the proactive practice that remedies any issues. In the USA, the drug testing is one way to go about it. In the UAE, the annual fit to work check ups and the occasion site requirements force contractors to react. However, if contractors did these quick proactive practices such as impairment tests then they would help ensure that a safety system is in a consistent state of improvement, and risk is minimized.
5. IN A POSITIVE SAFETY CULTURE, COMMUNICATION OCCURS OPENLY BETWEEN DEPARTMENTS, MEMBERS OF THE WORKFORCE, AND MANAGEMENT. COMMUNICATION IS NOT JUST ONE-WAY AND IS ALWAYS OPEN AND ENCOURAGED.
Yes, more communication. But it's so important.
A great way to prevent miscommunication, whether it's due to a misunderstanding of tone/language/vocabulary or a perceived double standard is to make sure that communication is open and encouraged.
Take, for example, a workforce with two managers: One says wear your helmets all the time while the other walks around the site with his head clear. The workforce is left questioning how serious and necessary these safety practices really are.
What do you do?
The first manager meets with the other manager face-to-face and  makes certain that you're on the same page about your safety practices. Then, both share the responsibility for enforcing these practices.  The same applies between managers and supervisors: when a workforce's supervisors supervise differently, the workforce does not have clear understanding about what exactly is expected of them and this creates miscommunication.
Many of the miscommunication issues are related to over-reliance on memos, bulletin boards, and e-mails in place of face-to-face contact. People felt they didn't have time to have conversations, but the results of miscommunication sometimes ended up costing a lot more. Companies should never assume that letters, memos or reports have communicated important information: One of the Challenger accident investigators coined the phrase: 
"Information is not communication!"
6. IN A POSITIVE SAFETY CULTURE, MANAGEMENT/LEADERSHIP PLAY AN ACTIVE ROLE TO DEMONSTRATE THAT THE SAFETY OF THE WORKFORCE IS THE TOP PRIORITY.
Culture starts from the top and cascades down. Management needs to demonstrate and represent a positive safety culture for all procedures, policies to be implemented.  Rose Antonia Carillo says in her article: "Employees said they cannot trust decision made by managers who have never been to the job site, have not demonstrated visible concern, competence or interest in learning about the real challenges workers face".
7. IN A POSITIVE SAFETY CULTURE, INCIDENTS, SAFETY ISSUES, OR STOPPING WORK FOR SAFETY CONCERNS ARE NOT MET WITH NEGATIVITY.
Responding to a safety issue with punitive measures sends a pretty ridiculous message: "Don't hurt yourself or you'll get in trouble."  Workers don't need to be punished for getting hurt, getting hurt is punishment enough.
What workers need is for management to create an environment where everyone is encouraged to be accountable and responsible.
At the heart of the 7 characteristics discussed here, however, lay three key factors: communication, responsibility, and proactiveness.
Without mastering these three, it is hard to have a positive safety culture.
Safety experts, academia, and modern workplaces are exploring the role of technology in strengthening these 3 factors, and thus building a more positive safety culture and at the forefront of this technology is impairment testing.
End.
Sources:
https://www.manitowoc-lookingup.com/post/10-steps-to-safe-and-efficient-tower-crane-erection
https://www.predictivesafety.com/blog/seven-characteristics-of-a-positive-safety-culture
https://www.ehstoday.com/safety/article/21914643/breaking-the-cycle-of-mistrust-to-build-a-positive-safety-culture