To start with, The Big 5 Heavy has always been a good opportunity for NFT to see customers face to face, catch up on their objectives for the coming year and hear their feedback on the past year. Customers can also benefit by sitting and talking directly with NFT's CEO and Potain's VP of Tower Cranes, as both will be present during the show.
Introducing the MDT 809 model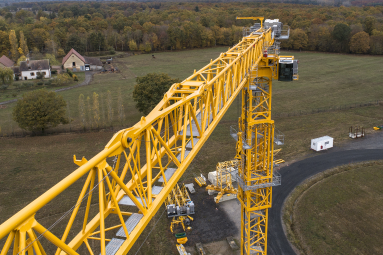 The launch of the MDT 809 is one of the most significant Potain tower crane launches of recent times: Over the past 10 years we've seen consistent growth in demand for topless cranes, with customers benefiting from their fast assembly and compact design, which makes it easier to get more cranes onto a job site to complete work quicker. Alongside this we've seen an increase in modular construction, with contractors needing to lift heavier loads. It's clear to us that there is strong demand for bigger topless cranes. But we wanted to be sure that any new model we launch not only satisfied demand for greater capacity, but also preserved the easy transport, fast assembly and industry-leading performance our other topless cranes deliver. The MDT 809 provides all that and more. Here are some of the added value of the MDT 809:
Lower costs
With its highly optimized assembly and disassembly, owners can install the crane on site in the shortest possible time and move it off site rapidly once work is completed. Alongside that, the crane offers up to 40 t of lift capacity and can accommodate up to 80 m of jib. For transport, the crane is especially compact, with everything but the slewing mechanism capable of traveling in a standard container.
The whole crane transports in either 10 or 11 containers, depending on the winch option selected, which is four to five fewer containers than is typically required for a crane of this size. Smart design features to aid shipping include protective packaging for the jib sections; optimized space usage for containerization and a cab that rotates for transport. The crane also has a new 8 m cross base that offers the performance characteristics of a 10 m chassis, but which requires only one container for transport.
High-speed assembly
The Potain MDT 809 is not only fast to transport, but also fast to assemble once on site: typically, around twice as fast as other 40 t cranes and also requiring less space. With its full complement of jib, the crane can be assembled at a 50 m working height in less than three days. The 8 m cross base is not only easier to transport but also faster to set up than the 10 m alternative.
There are dedicated slinging points on the crane to aid on-site assembly and jib sections can be assembled either on the ground or in the air, depending on site conditions and available space. The rotating cab and easy-connect points for the counterjib further simplify erection. Options for assembling the jib range from the 30 m minimum up to the 80 m maximum in 5 m sections.
High performance
From the range of regular frequency-controlled hoists, options for the crane span from the 100LVF to the 270LVF. An optional 150HPL is also offered, from the High Performance Lifting range, for the ultimate in speed and strength. These winch options give the crane a maximum available capacity of 25 t, 32 t or 40 t. Tip loads of up to 9 t are available at the 80 m maximum. With the new reinforced K-mast system, freestanding heights of up to 80 m are possible.
Users can choose from a two-fall configuration on the trolley for faster duty-cycle lifting, or four-falls for heavy lifting. Inside the cab a simple push-button solution enables the operator to activate the cable-tensioning system automatically. This is particularly useful for long-running job sites, where tensioning is required more frequently. The Crane Control System (CCS) features too, with its customizable operator profiles; simpler commissioning; load curve P+ functionality and much more.
Introducing the hydraulic luffer MRH 175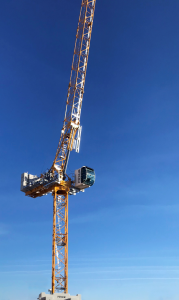 More information on the advantage of hydraulic luffers can be found in our previous blog post. However, here's a recap of some of the benefits:
Innovative crane, the hydraulic luffer is the first in the European range to combine luffing jib and topless capabilities; and it also uses hydraulic power for the luffing movement, for greater efficiency. As with the MDT 809, Manitowoc has placed a strong emphasis on return on investment for owners. The crane has an adaptable design making it suitable for all kinds of congested urban job sites, while transport and assembly times have also been optimized. Just four containers are required to transport the upper portion of the crane, with the counter jib and jib foot traveling as a single package. The unique VVH hydraulic luffing mechanism and cylinders are pre-connected at the factory, meaning no assembly is required on site.
A further advantage over traditional luffing jib cranes is that the hydraulic power of the VVH mechanism means there is no requirement to install luffing rope during installation. The hoisting winch, maintenance derrick and jib wind side plate are also pre-installed. Plus there is no need to adapt the wind-sail plate on site, no matter what length of jib the crane is erected with.
On-site the crane delivers outstanding operating performance, no matter how constrained the job site. The jib can be raised from the horizontal to near vertical (88°) in just two minutes, while the counterjib measures just 7 m and is simple to connect during assembly. The out-of-service weathervaning radius of just 10 m, whatever the jib length, adds to its impressive features for tight job sites, while the cab has the option to attach to either side of the mast to suit project conditions.
Sneak Peak into the MCT 565 coming in 2020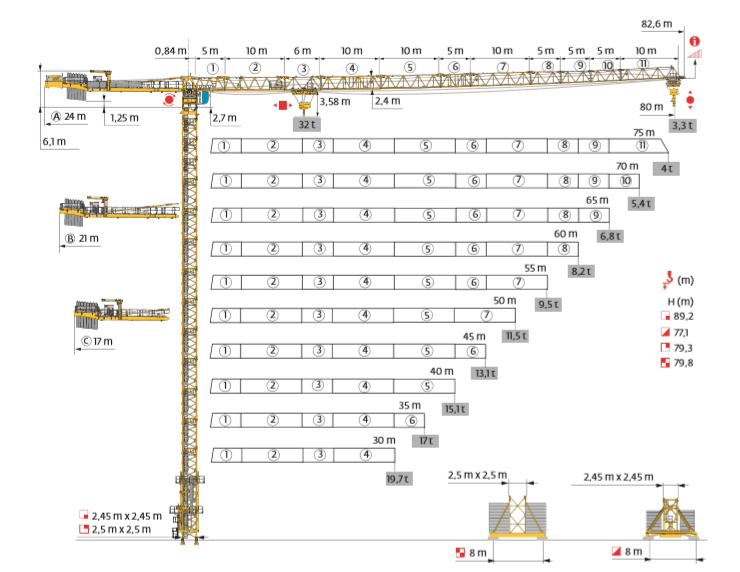 Why does NFT represent a brand like Potain?
Potain have been manufacturing tower cranes for 90 years so they are ahead of most manufacturers when it comes to innovation. New products with the customer requirements in mind are released on a regular basis. At every construction exhibition event no matter the continent, you can see a Potain stand with new products.  It is a global manufacturer with factories all over the word therefore they have policies in place for every segment of their business, whether it is manufacturing, procuring the right materials, or welding two joints together. The diversity of their fabrication facilities also mean they have different product offerings for specific market needs. The Potain name is known to historical contractors as a guarantee of safety and quality. When we did the research study, most of our customers scored high on variety, availability of spare parts endurance safety, reliability and quality.
They have a dealer network which we believe is second to none in this industry, and the manufacturer regularly organizes training / events to connect and educate those representing the product. As part of this dealer network, we can find used cranes and spare parts almost anywhere around the world. The main attributes of a Potain tower cranes include:
Innovation – Innovations include the Vision Cab, the Dialog control system and the LLC range of hoists.
Endurance – Potain cranes are especially adapted to perform strenuous work expeditiously. They offer frequency control systems for all modern and advanced operations, quick assembly and dismantling, full rotation system control and cart while, at the same time, they occupy minimal space for storage and transportation.
Quality: Potain tower cranes undergo serious testing under various conditions. It takes years for Potain to release new products because of the amount of time it takes to test all tower cranes. 2 testing centers: Lusigny and Charlieu in france.
High resell value – A Potain crane is an investment because of its guaranteed resale value. The brand name itself is well recognized by customers worldwide. In addition, the manufacturer guarantees the availability of Potain parts for all cranes, even those that are more than twenty years old! The well established Potain Second Hand crane market gives the highest residual value for the crane.
Adaptability – for building tall towers on  sites with several cranes, fast and easy installation in dense urban areas, for building narrow towers while saving on ties, for industrial construction – in fact just perfect for any type of work
French Engineering – French Engineering: Designed and tested in France. Assembled and manufcatured in Europe and Asia accordingto the same quality standadars in France. Regardless of where it is made, Potain is Fundamentally a French product.
The End.
Sources:
https://www.manitowoccranes.com/en/news-events/news/2019/190408-Manitowoc-unveils-biggest-Potain-topless-crane-at-bauma-2019