The construction industry witnessed the rise in concern to change existing designs, construction processes and enhance construction productivity. In an attempt to reach efficient solutions, the industry embraced the concept of Design for Manufacturing Assembly.
DFMA is a new approach that has made its way in the industry. This concept allows for planning work to be done off-site, due to which there is reduced wastage of time and labour to complete construction projects. It ensures a safe work environment and reduces the negative impact on the living environment. Prefabrication methods are now intensively used to improve construction production in the labour-intensive industry.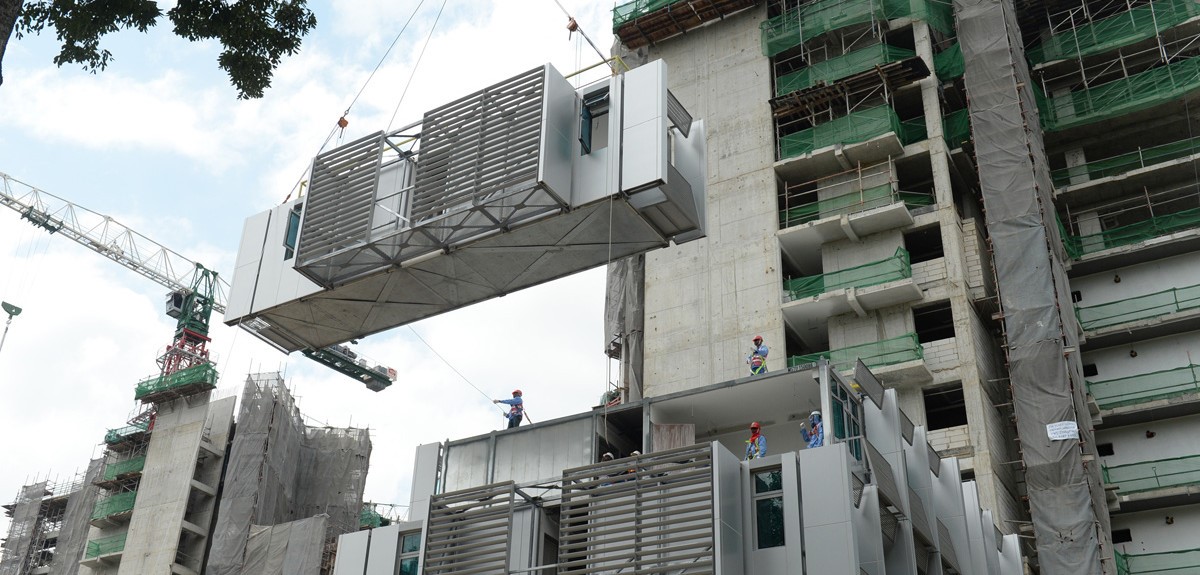 Prefabricated Prefinished Volumetric Construction is a new technology that supports the approach of DFMA. It focuses on speeding the construction process and productivity.  PPVC is a construction method where volumetric modules are manufactured and assembled in a fabricated facility according to the ascribed fabrication methods, and then the modules, including ceiling, floor, finishes for walls, are installed in a building under building works.
The rise in importance of PPVC is due to the benefits it provides as follows:
Improved Productivity: PPVC allows for a reduction in on-site construction activities. It speeds up the construction process as the fabrication process can be performed off-site at the same time, while other construction activities are taking place on-site. It has a significant role in improving productivity effectively. It can increase 40% productivity in terms of the labour available on-site and saves time up to 20%.
Reduce Labour Force On-Site: Improving worksite safety, PPVC is a game-changing technology. It allows for better working conditions for labour as most of the construction is performed off-site due to which less workforce is required on-site, which can save a lot of time in on-site installation. It significantly reduces construction, workforce, and installation activities on the site. Most operations are performed outside- in a controlled manufacturing environment- due to which there are fewer chances for any accidents occurring on work sites. It significantly reduces the chances of on-site injuries which the workers could face otherwise.
Better On-site Environment: PPVC affects our environmental footprint as well. With most operations performed off-site, the method allows for a significant reduction in noise and environment pollution. Project site construction causes severe disturbances for the surrounding neighbourhood; PPVC plays a remarkable role in reducing that. Off-site activities also mean less water spreading which leads to cleaner environments.
Quality Control: The quality and reliability of the final product are far more enhanced with operations taking place off-site. Planning of tasks and logistics cooperations can efficiently take place. PPVC can also be used for many multi-room constructions, including hotels, nursing homes, hostels, institutions, dormitories, and residences with a certain amount of ease.
PPVC has become prevalent due to its proprietary system of manufacturing PPVC modules. Incorporating PPVC in the design stage can be very useful in providing technical solutions and enhancing productivity.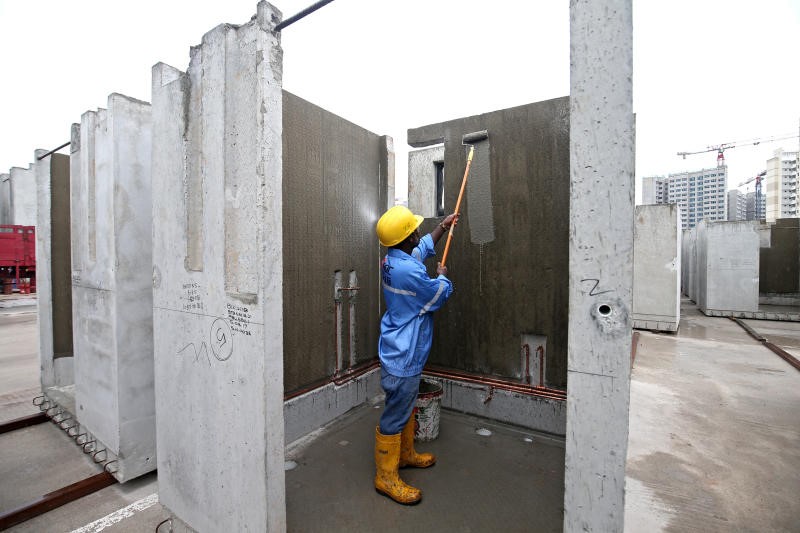 Precast Concrete Construction is another construction product where the concrete cast is moulded into a reusable product in a controlled environment. The method takes place at another location; it can either be a factory or a building site. It is then transported to the construction site where it is fixed properly. Precast concrete buildings are made by combining different component pieces.
Precast Construction is ideal for the construction of identical components. It is perfect for constructing low cost, identical apartments. There has been a rapid increase in Precast Concrete Construction because of its following advantages:
Versatile: Precast Concrete can be moulded into any shape, colour, or size and allows for a broader range for the designs that can be produced. It, therefore, allows for versatile designs to be made.
Climate Control Structure: Any factor that could result in the delay of projects, such as rain, cold, storm, dust, heat, is eliminated since the tasks are performed in climate-controlled structures.
Environmental Resistant: The structure of precast concrete is resistant to disasters, insects, fires, and moulds. It also provides low maintenance cost as it is resistant to rain, earthquake, damage, termites, and wind. Its material is far better than other building materials.
Low Cost: Precast concrete components are manufactured off-site and transported when they are required. This allows for saving time, ensuring safety for people on-site, reduce on-site disruption, which will reduce the overall cost of the project as there will be fewer trades and people on the site. Along with this, they can make as many identical components as they want by making specialised reusable moulds, which can further help them in cost reduction as they can save material cost while producing parts in large quantities.
Easy Construction: The process of Precast Concrete Construction makes operations easier as it is done on the floor rather than on height. Moreover, as the components are manufactured beforehand, construction projects can be completed swiftly.
Precast Concrete Construction is highly in demand because of its strength, durability, and affordability. It is a highly effective and practical method of concrete construction. Both PPVC and Precast Construction have made their way in the construction industry of the UAE due to their efficiency in improving construction productivity. The significance of these methods has drastically increased over the past few years. They are both now being used actively in construction processes.
Statistics reveal that depending on the complexity of the project PPVC can potentially achieve productivity improvements of up to 50%. The terms depend on the capability of man and time-saving. Pollution from dust and noise are also significantly reduced with this method. The brunt of construction work and the personnel required to do it are often shifted offsite to a regulated area, which may theoretically improve health.
After careful considerations, Prefabricated Prefinished Volumetric Construction (PPVC) has emerged as the smart go-to construction strategy. With improvements in productivity to up to 40%, efficiency in time reserves, and better construction environments, experts say it could be the future of the construction industry. However, there are specific design considerations to be made while wanting to utilise PPVC in projects. Here are a few:
Involvement of contractors: Developers need to acquire contributions from the PPVC provider or producer just as the Main Contractor at the design stage. This helps in creating robust specialised solutions for the undertaking. For instance, the decision of material will direct the size and number of modules in the design as weight is a significant thought for the lifting of the modules.
Site/venture the executives: The state of the streets encompassing the task must have the option to oblige the weight and size of the PPVC module transportation. Access to and inside the site must have the option to accommodate stacked trailers. It may not be reasonable to store numerous enormous PPVC modules on location, and a Just in Time (JIT) establishment would prevent unimportant double stacking of material. The crane sent nearby should have the option to deal with the heaviness of the PPVC modules and its area ought to be appropriately arranged so it can arrive at blocks for the establishment of modules.
Support, substitution and redesign: It is a reasonable practice for designers/manufacturers to give a user manual to the homeowner for the design of PPVC projects. For any remodel works, it is prescribed for homeowners to hire a redesign contractual worker, who might utilise the suitable apparatuses and adhere to the directions given in the user manual of the property.
Regulations to be Followed
 Prerequisites by respective agencies: The design, construction and establishment of the proposed PPVC framework for building construction will conform to the necessities by respective agencies, for example, BCA, Land Transport Authority (LTA), Ministry of Manpower (MOM), National Environment Agency (NEA), PUB, The National Water Agency, Singapore Civil Defense Force (SCDF), Urban Redevelopment Authority (URA), Housing and Development Board (HDB) and JTC Corporation.
PPVC Acceptance Framework: To guarantee that the distinctive PPVC frameworks being utilised are durable and sturdy, BCA has set up a PPVC Acceptance Framework comprising of building administrative offices just as industry specialists to assess the design and materials utilised. PPVC providers and producers need to get approval from these authorities.
Sites with PPVC need: The utilisation of PPVC is required for chosen private non-landed Government Land Sale (GLS) destinations from 1 November 2014 onwards. Details of these destinations and the compulsory PPVC prerequisites are listed in the Building Control (Buildability and Productivity) Regulations and the Code of Practice on Buildability 2017.
Case Study: The Lincoln Showroom built by Fujeirah National Construction where NFT had erected two Potain MD 1100.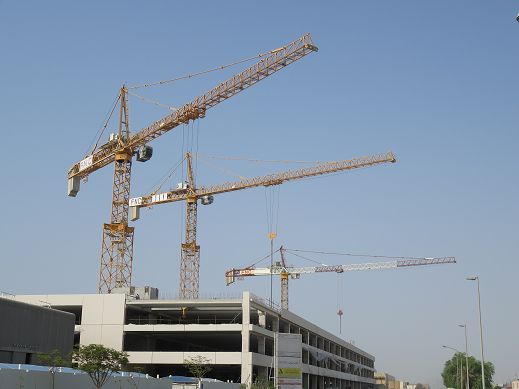 The Potain MD 1100 and MD 900 are ideal for projects in PPCV and PPC thanks to their high lighting capacity at tip load and their maximum lifting capacity. Most car park projects and mall structures are using these tower cranes: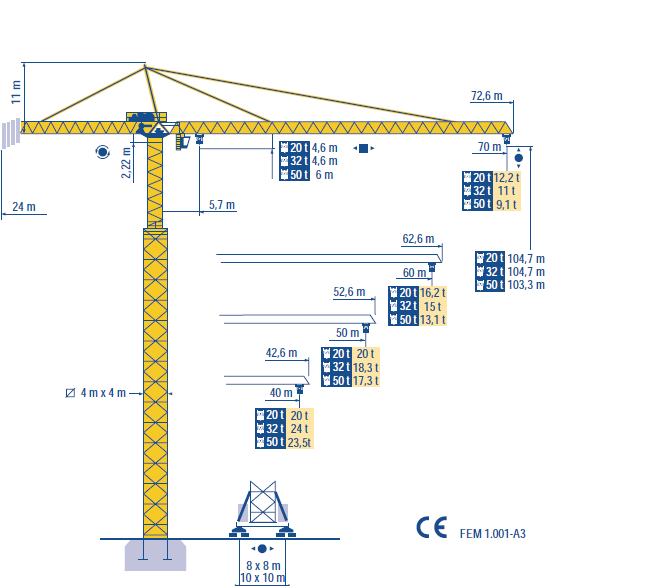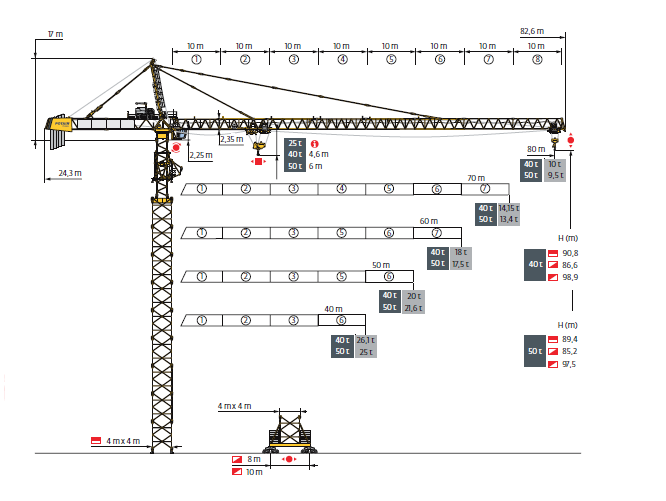 Case study: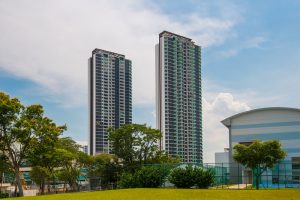 the Clement Canopy in Singapore.  It is a residential condominium located along Clementi Avenue 1 and in the vicinity of three schools and other residential blocks. The project combines both traditional construction methods and the PPVC. Conventional construction methods took place on the basement floor, multi-storey car park and first floor of the blocks, whereas, the 2nd to 40th floors adopted PPVC. The Clement Canopy is currently the tallest PPVC concrete building in the world.
Reasons to Apply PPVC in these case studies:
Heightened productivity: Depending on the scope of projects, PPCV increases efficiency by 40%.
Improved and healthier environment: Projects that apply PPVC in installation activities will see reduced pollution that is produced by dust and noise while decreasing the efforts of man.
To conclude, while considering to work with PPVC Projects, one must take care of four basic things. Design of the PPVC module, manufacturing the module, logistics of the module and lastly the legal regulations.Ultimately the use of PPCV helps all project stakeholders achieve shorter building times, better quality workmanship, cleaner construction sites and less damage to surrounding buildings.
End.
https://www1.bca.gov.sg/buildsg/productivity/design-for-manufacturing-and-assembly-dfma/prefabricated-prefinished-volumetric-construction-ppvchttps://www1.bca.gov.sg/buildsg/productivity/design-for-manufacturing-and-assembly-dfma/prefabricated-prefinished-volumetric-construction-ppvc/prefabricated-prefinished-volumetric-construction-case-study-the-clement-canopyhttps://www.concreteconstruction.net/projects/residential/the-clement-canopy-singapore_o
http://quicksmarttechnology.com/what-we-do/processhttps://www.polyu.edu.hk/cnerc-steel/images/research/resources/technical-seminar-on-mic/05.pdf
https://www.researchgate.net/publication/325397934_COMPARATIVE_STUDY_OF_IPS_PPVC_PRECAST_SYSTEM-_A_CASE_STUDY_OF_PUBLIC_HOUSING_BUILDINGS_PROJECT_IN_SINGAPOREhttps://www.wellsconcrete.com/benefits-of-precast/https://mea.ramboll.com/news/rme/ppvc_construction_the_dawn_of_a_new_erahttps://www.researchgate.net/publication/332487925_Prefabricated_Prefinished_Volumetric_Construction_Joining_Tech-niques_Review