In our earlier posts, we touched base on the advantage of using self-erecting tower cranes over telehandlers and mobile cranes. Today, we discuss again the benefits of using self-erecting tower cranes for low rise building. NFT has supplied over hundreds of self erection cranes in the GCC over the past year and continues to promote its cost saving and increase capacity over other cranes. Today, NFT has 40 self erecting tower cranes in its fleet, ranging from 1 to 10 Tonnes.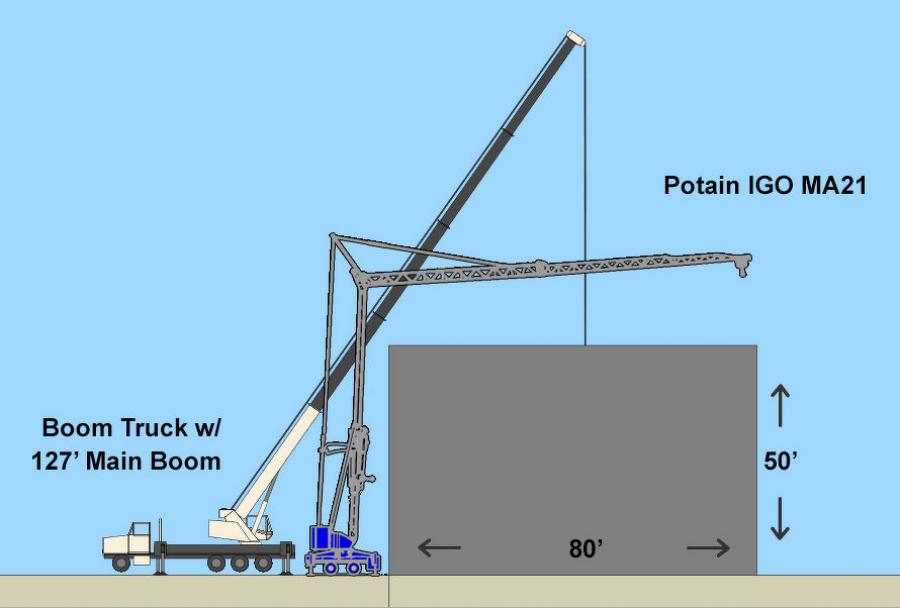 Increased Efficiency
Efficiency when using self-erecting tower cranes is improve by:
Reducing number of framers required
Eliminating need for rough terrain forklifts and tow motors
Eliminating need for hydraulic crane for truss work
Reducing the number of laborers handling materials
Working on tighter job sites
Eliminating a pump truck for columns, footings, and walls
Saving time with quick and easy set-up
Self-erecting tower cranes set up so quickly compared to conventional tower cranes. These get on-site and in operation in less than two days.
Remote Control Operation
The remote control operation of these cranes is awesome, it allows to operate more efficiently and with less personnel.  The crane operator can rig several panels himself, pick and move them and unload in steps. NFT operators are  very efficient and experienced in driving self-erecting cranes.
The Future is Here: Self-Propelled Self-Erecting Tower Cranes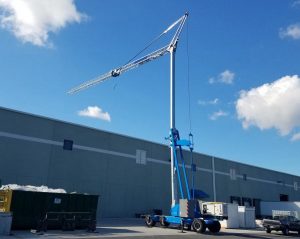 The Potain IGO MA21 mounted on a 4WD chassis that runs off of its own generator. Users can maneuver around the job site with 4-wheel drive and 4-wheel steer capabilities all while the tower remains set-up. No more setting up with a truck and trailer.
Driving and steering via tethered control unit with push buttons
Electro-mechanical four-wheel drive with 2 speeds and four-wheel steer
Can be driven fully erected (on flat, with no load)
Heavy duty axles with planetary hub reduction and dual 9.00 x 20 off-road tires
Four extendable hydraulic outriggers with a base of 13.1 x 13.1 ft.
Power supply: Onboard 23kVA soundproof genset, or customer supplied 480 V "city power"
Transport dimensions: (l x w x h) 39.6 by 9.1 by 10.1 ft., total weight 49,384 lb.
Award Winning Hup Range
The Hup 40-30 wins LLEAP Gold Award in 2017. This model maximizes profits with more job opportunities than ever before.
Maximum reach for class-leading performance : One mast provides two telescoping heights and four jib positions plus a potential partial jib. This versatility enables 20 possible crane configurations.
Multiple integrated configurations for various jobsite needs: Telescoping, integrated masts give you the option of working at heights of 21 m (70 ft) or 27 m (88.6 ft). In addition, automatic erection system requires no extra mast section to greatly reduce setup time.
Unmatched compact design for challenging jobsites and easy transport: the entire crane can be fitting in one high-cube container for shipment and can be transported on axles for land deliveries.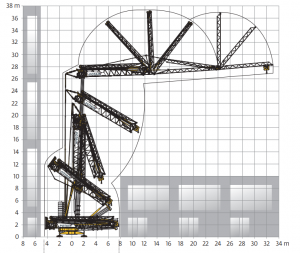 Innovative movement technology enables unfolding in
narrow and compact areas: Jib unfolds over the top to preserve
space under the crane when working next to buildings
The New Smart Set-up software simplifies crane erection using the exclusive Potain remote control and the electrical panel is easily accessible for convenient serviceability. The software has an  intuitive user interface for simplified, step-by-step crane erection  
In Conclusion, the self-erecting tower cranes is now replacing other forms of cranes for buildings below eight floors. All the above mentioned benefits ultimately results in more cost saving for higher efficiency on site.
End.
Source: 
https://www.constructionequipmentguide.com/self-erecting-tower-cranes-revolutionizing-the-building-industry/44953
https://www.manitowoccranes.com