Earlier in May, we spoke about hydraulic tower cranes and the MCH 125. Today, we will touch upon the MRH 125 which was launched at Bauma in April earlier this year.
The MRH 125 can lift up to 8.8 U.S. tons, be equipped with up to 164′ of jib, and lift 2.2 U.S. tons at the tip of the longest jib. Its maximum freestanding height is 190′, and maximum line speed is 387 fpm with 50LVF20 hoist winch. The Topless design with several elements making up the slewing crane part reduce the standard size and weight to make transport, handling, and fitting easier.
As with all of its products Manitowoc has placed a strong emphasis on return on investment for Potain MRH 125 owners. The crane's adaptable design suits it for congested urban job sites while also optimizing transport and assembly times. "The MRH 125 has an optimized transport cost for a luffing jib crane in its capacity class," said Thiebault Le Besnerais, Manitowoc's global product director for tower cranes. "It can also be mounted on our standard 1.6 m (5'6″) or 2 m (6'6″) K-masts for better optimization for fleet owners, and it offers lower power consumption than traditional luffing jib cranes."
The MRH 125 also uses the latest luffing technology of the VVH hydraulic luffing mechanism which allows complete hoisting of the jib in two minutes. VVH hydraulic luffing eliminates the need to install luffing rope during crane setup. The hoisting winch, maintenance derrick, and jib wind side plate also come pre-installed to save setup time. Plus, there is no need to adapt the wind-sail plate on site, regardless of jib length. Also, the cab can be attached to either side of the mast to suit project conditions.
The jib can be raised from horizontal to near vertical (88°) in just two minutes, and the compact counter jib measures just 23' and connects easily during assembly.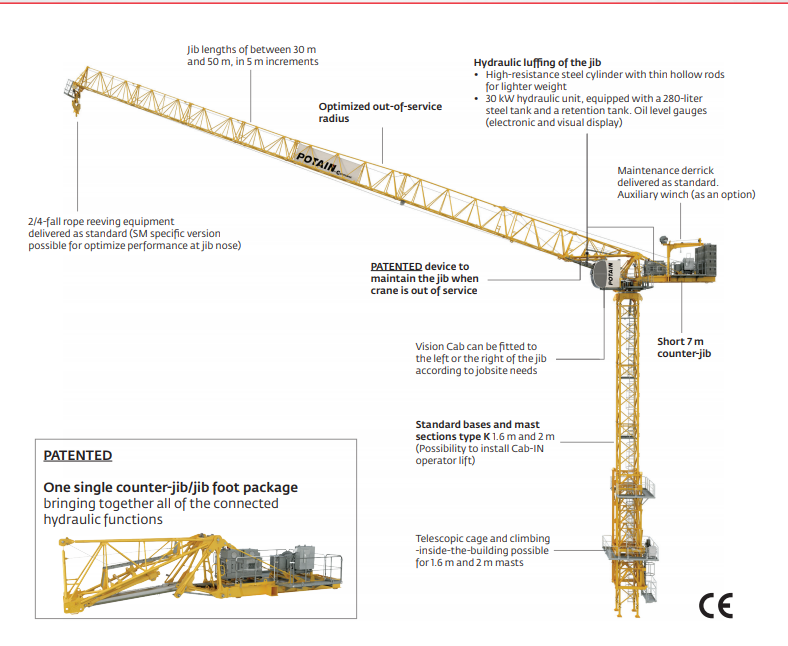 The main features of the MRH 125 are as follows:
It's the perfect crane for confined areas
Almost vertical luffing jib for minimum space requirement when working
Weathervaning radius optimized for each jib length, just 10 m for the 50 m jib, ideal for congested jobsites
Option to fit the cab on the left-or right-hand side of the jib according to jobsite needs and especially to allow installation of the crane as close to the building as possible.
It's the fastest fitting of a luffing jib crane
One single counter-jib/jib foot package bringing together all of the connected hydraulic functions. No inter-jobsite dismantling/fitting, compact and transportable in one package
No installation of luffing rope thanks to an innovative hydraulic system: save fitting time compared to traditional luffing system and increased safety
Transport is Optimized
Only 4 containers or 4 trucks for transportation of the whole slewing crane part with a 50 m jib
Optimized return on investment
Luffing jib crane adapted to very tight urban jobsites
Economical transport, easy and adapted to the fitting sequences
Fitting/dismantling time reduced through a design combining the Topless concept with hydraulic luffing technology
Improved fitting safety
In conclusion,  the MRH 125 has all the advantages of traditional luffing jib cranes with the capacities of the topless cranes. This combination of the best of both worlds ensures outstanding operating performance and guarantees a positive return on investment. To view the datasheet or request a quote, visit:
https://www.nftcrane.com/en/content/hydraulic-cranes
First quarter improvement for Manitowoc
Manitowoc Crane, which also includes Grove mobile cranes and Potain tower cranes has posted first quarter revenues 8.3 percent higher at $418 million.
The increase was attributable to higher crane shipments in the Americas and European regions, coupled with pricing improvements, partly offset by unfavourable changes in exchange rates. The pre-tax loss increased from 6.1 million in the same quarter last year to $23.4 million this year, entirely due to a $25 million charge for early extinguishment of its debt, when it refinanced on more favourable terms in March. Without this the company would have been back in the black with a profit of $1.6 million. At the operating profit level it made $16.2 million compared to just $1.7 million last year. Full year revenues are now forecast to be three to seven percent higher at $1.9 to $1.97 billion.
Chief executive Barry Pennypacker said: "Manitowoc once again delivered a strong start to the year, delivering our eighth straight quarter of year over year adjusted EBITDA margin increase. The operating principles of The Manitowoc Way continue to produce improving financial results as we execute our strategy for profitable growth by delivering innovation and velocity in everything we do."
"In March, we successfully refinanced our capital structure to further strengthen our balance sheet. This action increases liquidity, reduces interest expense and allows us more flexibility to deploy our capital in order to increase shareholder value."
"Market conditions remain very competitive. We continue to focus on providing innovative products and services for customers as evidenced by positive customer reception to our six new cranes introduced at the bauma trade show in April. As a result of our first-quarter performance and our proven ability to execute on our strategy, we are raising our full-year guidance."
Sources:
https://www.cranesy.com/new-potain-tower-crane-works-topless-stores-luffer/ 
https://www.manitowoccranes.com
https://www.vertikal.net/en/news/story/32996/first-quarter-improvement-for-manitowoc