In an increasingly fast-moving, complex, and uncertain economic environment, it can be incredibly difficult to make sense of the rapidly changing forecasts provided by individual analysts and commentators – all of which are published at different times and reflect different circumstances, interpretations and scenarios.
To overcome this, GlobalData has developed a consensus-based forecasting methodology for its key macroeconomic indicators, which combines and standardizes inputs from 32 different contributors to provide a concise view of prevailing opinion on future economic performance in any given week. Prior to the outbreak of the coronavirus (COVID-19), GlobalData had predicted that there would be an acceleration in the pace of growth in the global construction industry, to 3.1% from 2.6% in 2019. However, given the severe disruption in China and other leading economies worldwide following the outbreak, the forecast for growth in 2020 has now been revised down to 0.5%. The current forecast assumes that the outbreak is contained across all major markets by the end of the second quarter, following which, conditions would allow for a return to normalcy in terms of economic activity and freedom of movement in the second half of the year. However, there will be a lingering and potentially heavy impact on private investment owing to the financial toll that inflicted upon businesses and investors across a wide range of sectors. Growth in 2021 will be marginally higher than previously expected owing to the projected rebound (and high year-on-year growth rate) in the first half of next year. In the event that the spread of the virus continues into the second half of 2020, further downward revisions to the growth outlook are likely.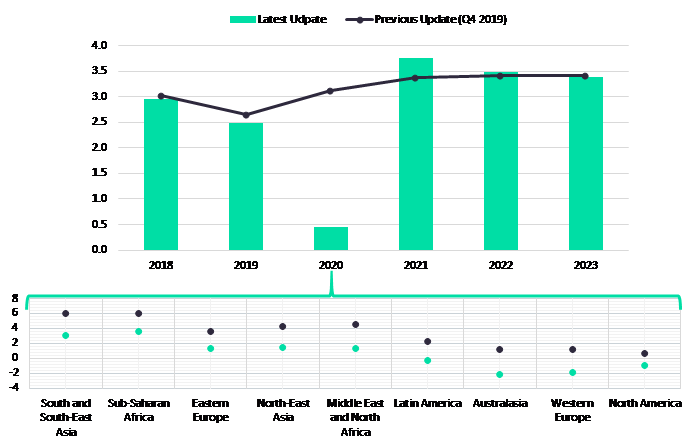 The global economy faces a severe economic downturn as the COVID-19 epidemic spreads around the world. Data from Johns Hopkins University shows that over 585,00 cases had been recorded worldwide and around 26,00 people had died as of March 27th. In early March, the IMF announced that it expected global economic growth to fall below the level recorded in 2019, of 2.9%. It had previously forecast that growth would accelerate in 2020 to 3.3%. Since then, the situation has worsened markedly, particularly in the US and EU, and the IMF has predicted that the global economy would go into a recession in 2020 with an expected recovery in 2021 contingent on countries' containment measures and strengthened healthcare infrastructure.
With extreme quarantine measures including lockdowns of entire countries as well as international travel restrictions being imposed across many major economies, the supply shock is expected to dampen economic activity. The direct impact on construction has been the halting of work with labor unable to get to sites or because of disruption in the delivery of key materials and equipment. Reflecting these issues, the direct impact of the COVID-19 on construction has been extensive in the worst-hit countries, namely China, Italy, South Korea and Iran. Official data that would reveal the extent of this impact has yet to be published, but anecdotally it is evident that although projects may not necessarily have been formally classified as being on hold or cancelled, progress will have been severely affected.
More generally, the construction industry will be heavily affected by the expected widespread disruption to economic activity and a likely drop in investment, with planned projects being delayed or cancelled. GlobalData foresees particular struggles in the commercial and industrial sectors; businesses in these sectors are most at risk from the severe drop in economic activity, domestically and globally, and their immediate priorities will be on staying afloat and rebuilding their core operations, rather than expanding and investing in new premises or capacity. The residential sector also will struggle as economic activity weakens and unemployment rises, despite low interest rates and direct government support. There is a high risk that a considerable proportion of the early stage projects in these sectors will be cancelled or at least pushed back, with few new projects starting in the second quarter of 2020 as firms review their expansion plans.
Governments and public authorities will likely be aiming to advance spending on infrastructure projects as soon as normality returns so as to reinvigorate the industry. This will be spread across all areas of transport infrastructure and energy and utilities. With interest rates falling to record lows, borrowing costs will be at a minimum, but the success of government efforts to spend heavily on infrastructure will be dependent in part on their current financial standing. Moreover, with most governments prioritizing cash hand-outs, particularly to the economically weaker segment, their capability to invest in the infrastructure segment is likely to be constrained, especially in countries with high debts.
Amid worsening economic conditions as a result of the COVID-19 outbreak, the construction industry is set for a year of contraction across Western Europe. The COVID-19 virus outbreak will bring severe disruption to the industry, as the strict quarantine measures imposed across the region will lead to ongoing projects being temporarily halted and new projects being delayed. The major markets including Germany, France, Italy and the UK are all set for negative growth in 2020, with a further downward revision likely if the situation worsens. As a result, GlobalData has revised its forecast for the Western Europe construction industry, with a contraction of 1.9% expected in the region. The outlook for the Eastern European construction industry is more positive than in Western Europe, as the region has thus far not suffered to the same extent as major markets such as Italy, France and Spain. While the impact has so far been limited, the health situation is expected to deteriorate in the coming months. GlobalData forecasts the Eastern Europe construction industry to grow by 1.4% in 2020, however, this is contingent on the virus being contained by mid-2020.
Prior to the outbreak of the coronavirus (COVID-19), GlobalData was predicting a mild recovery in the pace of growth in construction in North America in 2020 thanks to a rebound in the housing market, on-going infrastructure investments and the recent trade truce between the US and China. But as COVID-19 continues to spread rapidly across the region and national authorities take drastic actions to contain the disease, developers, especially, homebuilders are expected to face a sharp slowdown in new construction projects as economic activity weakens and unemployment rises.
Already with one of the world's slowest economic growth and rocked by street protests and issues such as corruption scandals, high levels of crime and rising inequality, Latin America is now bracing for the prospects of going further backwards as the number of coronavirus cases rises quickly across the region. Due to its high-commodity export dependence and direct trade exposures to China, the US and the EU, the region's economy and construction industry will be severely impacted by slower global demand, and significant commodity price declines. As a result, GlobalData has revised down its construction growth forecast for the region as a whole in 2020 to -0.3% from a previous growth forecast of 2.3% in the Q4 2019 update.
GlobalData has sharply revised downwards its forecast for construction output growth across North-East Asia in 2020, to 1.4% from 4.2% previously, reflecting the fact that China's industry has been severely affected, and other major markets in the region, notably South Korea and Japan, are also suffering a heavy impact. China is suffering an unprecedented decline in economic activity owing to the widespread and lengthy lockdowns since mid-January. Forecasts for economic growth in China are now being slashed; the China International Capital Corporation, for example, now predicts growth of 2.6%, down from 6.1% previously, while China Beige Book, data analytics firm, has revealed that its latest survey of more than 3,300 Chinese businesses points to a contraction in GDP of 10-11% in Q1 2020.
The South and South-East Asia region is among the most vulnerable to virus outbreak from both the direct and indirect impacts. For South Asia, a WHO model predicts that the region could see a GDP reduction of 2% in case of a global influenza pandemic, while South-East Asia has a high dependence on trade with China and is heavily exposed to fluctuations in global trade. Governments across the region are trying to combat the economic strain brought as a result of the COVID-19 outbreak by announcing fiscal stimulus packages, particularly supporting the tourism and airlines industry, and adopting accommodative monetary policy with interest rate cuts. Prior to the onset of COVID-19 outbreak, GlobalData had expected the region to regain some of its growth momentum in 2020 to post an expansion of 6%; however, in view of the region's close trading and economic ties with China, and the impact on key markets in the region, the forecast has been cut to 3.1%, with further downward revisions possible.
Australia's construction industry has been on a severe downturn, which in 2020 will be compounded by the outbreak of COVID-19 and the negative impact on the economy. GlobalData had been expecting only a marginal increase in construction output in 2020, rising by 0.6%, following a drop of 7.5% in 2019, but the forecast for 2020 has now been revised to a contraction of -2.3%, with growing concerns over the potential for a further rise in the number of construction firms going into administration. However, an expansion in infrastructure investment will provide support in the medium term. New Zealand's construction industry will also succumb to the impact of tight measures implemented to contain the spread of the coronavirus.
GlobalData has cut its construction output growth forecast for Middle East and North Africa (MENA) region for 2020 to 1.4%, down from the previous projection of 4.6% (Q4 2019 update) in light of the outbreak of the coronavirus (COVID-19) and the recent sharp drop in oil prices. Activity in the construction sector throughout the region is expected to slow down with the outbreak of Covid-19 as lockdown measures have been implemented across the region along with targeted support measures, such as monetary easing through interest rate cuts and fiscal stimulus measures to support the private sector and avoid a severe economic downturn. Saudi Arabia remains the largest construction market in the MENA region. Prior to the outbreak, Saudi Arabia's construction sector had posted growth for the first time in five years, expanding 4.6% for 2019 in real terms. However, amid the worsening situation with regards to Covid-19 outbreak and the decline in oil prices, GlobalData has cut its forecast for construction output growth to 2.9% in 2020 and 3.2% in 2021.
GlobalData has cut its construction output growth forecast for Sub-Saharan Africa (SSA) in 2020 to 3.6%, down from the previous projection of 6.0% (Q4 2019 update). The revision reflects the impact on the region's economic activity and investment growth stemming from the wider global slowdown and the outbreak of COVID-19 in the region. COVID-19 outbreak presents a downside risk for short-term growth in the region, and its impact on the region's economy is expected to be strong given the continent's exposure to China, particularly in Ghana, Angola, South Africa, and Nigeria, which are reliant on China's demand for their commodities exports. South Africa, will continue to struggle to generate growth drive as it falls into recession.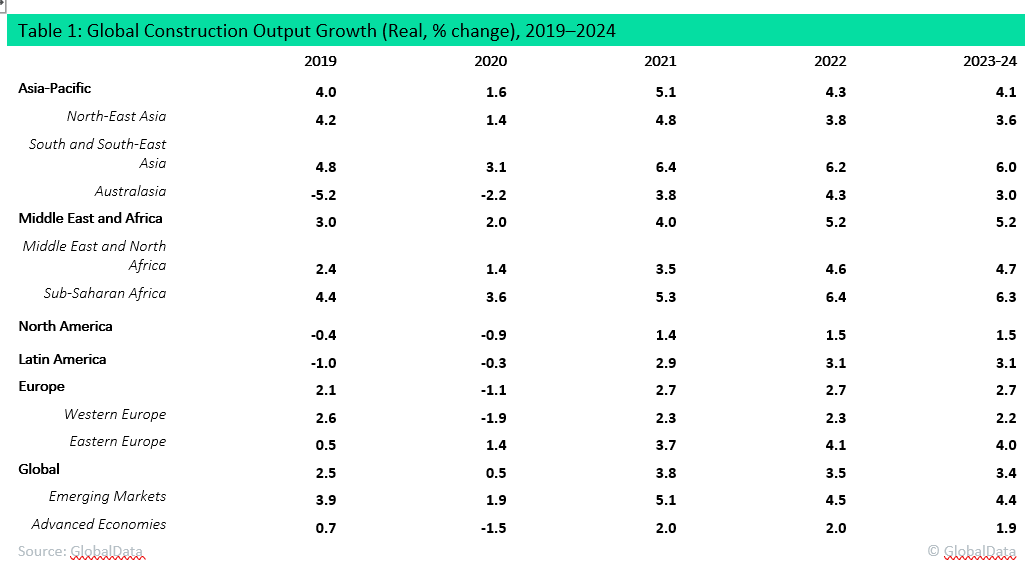 Construction and COVID-19 Survey of Construction Industry Executives
GlobalData recently surveyed industry executives globally to gauge the extent to which they have been subject to the impact of COVID-19. Notably, 68% agreed or strongly agreed that the COVID-19 outbreak had led to a halt in construction work, while 79% agreed or strongly agreed that it had led to delays in the commencement of new projects. With the initial round of the survey being concluded on March 24th, there had yet to be an overwhelming view that containment measures had greatly impacted the supply of materials and equipment. Nevertheless, globally 33% of respondents agreed that there had been issues relating to shortages of equipment, 42% with shortages of key materials, and 54% with shortages of labor.

The main challenge for the industry in the short term is that projects that are under construction are being delayed, resulting in a range of legal and financial ramifications for contractors. The risk of project cancellations is also high. The survey shows that 49% of respondents agreed or strongly agreed that COVID-19 had resulted in project cancellations, whereas 78% agreed or strongly agreed that contract awards were being delayed as a result of the outbreak and its impact on investor confidence and general operations.
In the event that the lockdowns are not prolonged beyond a few weeks, and that containment measures are effective in terms of controlling the spread of COVID-19, project owners, key contractors and other firms, should they still be in business, will aim to restart projects quickly and accelerate delivery where possible to avoid lengthy delays to completion. However, if the lockdowns are extensive, and companies do not get the support they need, at best there could be delays while new funding is secured or new contracts tendered and awarded, but at worst there is a high risk of companies failing and projects being cancelled outright or left partially completed.
Although at this point in the crisis period there is still considerable uncertainty as to how events will unfold and the extent to which the global economy will be affected, the general assumption among the industry executives is that the crisis will continue for up to nine months.
Saudi Arabia is cutting allocations for a number of its Vision 2030 initiatives and mega projects
Saudi Arabia is cutting allocations for a number of its Vision 2030 initiatives and mega projects Saudi Arabia is implementing a range of austerity measures following the announcement on May 11th that the Kingdom posted a US$9 billion budget deficit in the first quarter of 2020. The central bank's foreign reserves fell in March to their lowest since 2011, while oil revenues in the first quarter fell 24% from a year earlier to US$34 billion, dragging total revenues down 22%.
Amid the worsening situation with regards to the COVID-19 outbreak and the decline in oil prices, the government decided to raise value added tax (VAT) from 5% to 15%, effective July 1st, and to suspend cost of living allowance paid to state workers starting from June 1st, according to Saudi Press Agency (SPA). According to the ministry of finance, the tax increase will not have much impact on revenue for 2020 because people are spending less under the curfew, but it will shore up the government purse for the coming years as the world recovers from the pandemic crisis. The Kingdom is rationalizing its
spending due to the unplanned fiscal and monetary policies to support the health sector and the overall economy and mitigate the economic effects of the pandemic and plunging oil prices. Earlier in May, authorities announced that they will reduce spending in non-priority areas of the 2020 budget by SAR50 billion (US$13.3 billion), accounting for 2% of GDP, to accommodate some of the initiatives announced in response to COVID-19 so that overall spending for 2020 remain close to what was planned. To further improve spending efficiency, a ministerial committee has been established to study the
financial benefits paid to all employees, contractors, and entities that include the Vision 2030 programs, and present its recommendations within 30 days.
Delayed capital spending The Saudi government's revenues will suffer from the low oil prices and this will likely impact the government's economic spending program and mega infrastructure projects in the pipeline. In the short- to medium-term, the government's diversification drive will be severely disrupted. Saudi Arabia will cut some allocations for Vision 2030, with a total cost of SAR100 billion (US$26.6 billion). Delays in awarding contracts among other tough measures could push back the execution of high-ticket projects under Vision 2030. The construction of both the tourism hub on the Red Sea and the Neom entertainment city outside of Riyadh will have their timelines extended as announced by the finance ministry. Social
infrastructure and oil and gas projects now have the highest priority in terms of investments, but the pace of spending will slow.
Construction on major commercial work, especially in the hospitality sector, is likely to face delays or cancellations. Religious tourism suffered a setback when the Kingdom took the decision to close off the holy cities of Mecca and Medina to everyone, thus barring Umrah during the holy month of Ramadan and the high likelihood of cancelling the annual Hajj pilgrimage. Tourism generates very high revenues (almost 4 million tourists per year), due in particular to the Hajj. The Kingdom's tourism ministry announced that it expects the tourism sector's revenues to decline by 35%-45% this year, compared to 2019, due to the containment measures taken by the government to fight the pandemic. Reflecting these developments, major religious-tourism expansionary projects are at most risk, notably the third phase of the Grand Mosque in Mecca has been paused. The entertainment sector will also have a set back as social distancing gets prolonged. One of the main goals of the country's Vision 2030 is to increase Saudi household spending on domestic entertainment from 2.9 to 6% of total expenditure. There are 140 cinemas planned to open in 30 malls across the Kingdom, with the contagion going on, construction will be slow in this sector. Saudi Arabia plans to diversify its oil-dependent economy through tourism, with the sector expected to contribute to 10% of gross domestic product by 2030. GlobalData has cut its forecast for construction output growth for the Kingdom to -0.6% in 2020 (with a possibility of further cuts if lockdown is extended longer and the fiscal situation worsens). Prior to the outbreak, Saudi Arabia's construction sector had posted growth for the first time in five years, expanding by 4.6% in 2019 in real terms; an outturn that was better than had been expected. A key pillar of its Vision 2030 program is increasing non-oil economic growth, which accelerated at the fastest pace in four years in the second quarter of 2019.
End.
Source: 
GlobalData Plc | Registered Office: John Carpenter House, John Carpenter Street, London, EC4Y 0AN, UK Registered in England No. 03925319