Following our articles on the Impact of digital technology and online trading on the crane and construction market and Digital Technology Improving Efficiency in Construction Machinery, we thought it would be essential to address the issue of Technology in the Construction industry with the COVID-19 pandemic which has accelerated the need to be connected. Indeed, the investment in Technology is no long a luxury or an option, it has become a necessity for companies to work. With the ever-present Coronavirus pandemic, managers cannot afford time to be wasted or for vehicles to have downtime that isn't planned for. Technology innovations allow for fleet operators to capture, analyse and transform their data from mobile assets and equipment into insights that are actionable. In this fast-changing world, it's essential for managers to know the status and location of their high-demand and high-value assets as well as their tools and equipment.
 Drones
It's easy to understand why the construction industry was one of the first users of drones and the success of these in the industry have brought about huge changes. Currently, the industry uses drones for tasks like assessing structural damage, surveying a site and collecting data in the management of earthworks. Drones have the advantage of being able to see where people can't and, what's more, they're safer in many dangerous places like buildings with structural damage.
Drones give workers a bird's eye view of a project and can take snapshots from angles otherwise not seen from the ground. These functionalities have had a huge impact on the construction industry and their use is set to continue rising. With drones in use, there is a lesser risk to workers in terms of injury and projects also operate at maximum efficiency.
Artificial Intelligence and Machine Learning
When it comes to innovation potential, AI, autonomous vehicles and robots certainly have a great deal. It often isn't well known but the construction industry has a huge amount of data that comes in every second, minute and hour and the truth is that no person on earth has enough time to sift through it all properly. The most valuable potential for IoT in construction is to use machine learning to assist in extracting meaningful insights from all the collected data and put it together in a way that is analysed with ease. For example, if in a new housing estate there are over a thousand issues, it would be impossible for all of these to be read and acted upon quickly. Machine learning has the potential to develop this area hugely.
Cloud-based tech
The use of cloud-based technology is arguably one of the biggest opportunities for investment. This technology means that everyday workflows and processes can be streamlined and all staff can have easy access to data. What's more, it allows for continuous communication with the stakeholders for a project. Furthermore, this technology can help to mitigate risks as it reduces disputes in contracts. Disputes can be easily managed via diligent tracking and can be stopped from turning potentially disastrous for the company. For example, contract disputes play a significant role in poor financial results. If the risks can be managed well with cloud-based technology, companies can reduce the financial impact that disputes can cause.
How IoT can assist and improve the workforce: "INVESTING IN TECHNOLOGY IS INVESTING IN THE WORKFORCE"
IoT can create smart workers who work smarter. For example, technology has the ability to track the use of equipment and tools on a construction site and can pinpoint their location accurately. This can help workers who are on large sites with shared resources. Managers can use this technology to make sure that the whereabouts of equipment are known and therefore time will not be wasted by workers looking for a specific tool or piece of equipment. Tools can be given electronic tags that send beacons to a receiver that is located at the site. The receivers map out the precise locations of the beacons and show their location on a smartphone or device. There are lots of different systems available, including COTS (Commercial Off The Shelf) systems. The systems are also able to track personnel when on-site so that managers and colleagues don't spend time hunting for a specific person or waiting for a colleague.
Bluetooth for tracking
With construction operations continuing to change rapidly, being able to control and oversee the company's assets is more important than ever before. With Bluetooth smart sensors, managers can monitor and protect their assets (service equipment, tools, etc.) to make sure that nothing is left unattended or left behind and is in the right place. This system improves efficiency. If some equipment happens to be misplaced, the technology will show its last known location and thus workers will be able to find the piece of equipment quickly without time being wasted.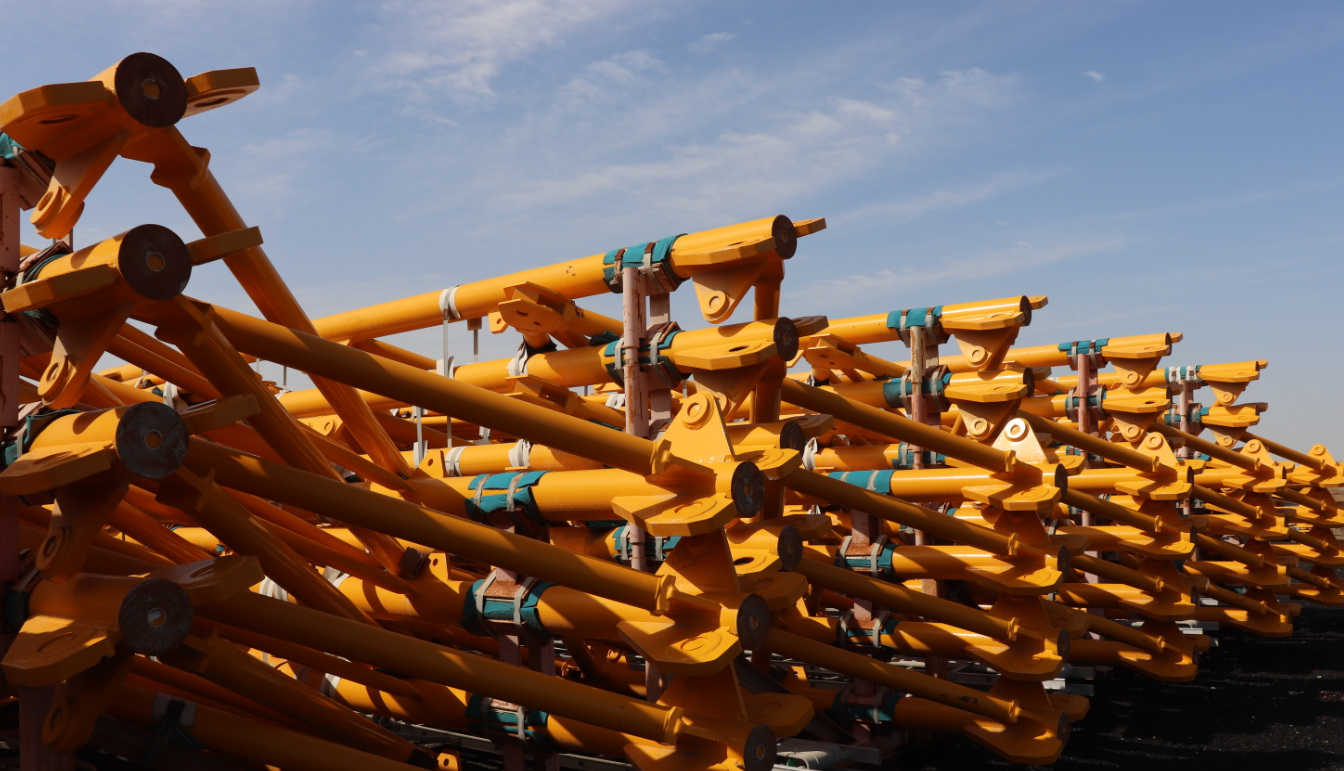 NFT embraces RFID solution for Fleet Management!
 If the Covid-19 pandemic has done anything, it's to accelerate the need for businesses to embrace digital transformation. NFT in December 2019 has concluded a deal with a UK based company and its UAE local representative to track its large fleet of tower cranes using Radio Frequency Identification Device (or RFID) solution. All tower cranes, construction hoists and their respective parts and accessories are tagged and then linked to an asset tracking and management software. This in turn is then integrated with NFT's software solution for Inventory Management and Asset Evaluation.
"Having the world's leading fleet of tower cranes spread across 300,000 sqm calls for an automated way of tracking our Asset" says Plant Manager Amer Sneij. "Relying on a manual/offline solution was fine 20 something years ago when we had just a few hundred cranes spread across three medium sized yards, but today with 2,500 tower cranes, 500 hoists, 10,00o plus accessory types and a warehouse filled with spare parts, the old way has become a challenge".
With an average turnover of one crane delivered per day and catering to multiple destinations worldwide, technology has become a necessity for NFT. "The objective is to minimize human error and wastage while optimizing inventory managing, strategic planning and "real time" decision making. IoT, RFID, Asset Tracking have become standard in the construction, logistics and oil and gas industries. We believe that NFT's strategy for modernization and compliance with international standards of trading, allows it to be in the perfect position to adopt this technology and benefit from its operational efficiencies and cost saving" added Nagham Al Zahlawi, Deputy General Manager.
A customized cloud-based system has been developed from scratch to match NFT's process of fleet tracking, storing, loading, inspecting, assembling, mobilizing and re-stocking. For example, and to avoid loading tower crane parts on trucks or containers without any missing piece, an automated gate barrier at the workshop only opens when the reader scans all parts on board and signals that it's good to go. "This was an important feature to add because the worse thing that can happen on site during installation is for us to deliver a crane part with a piece missing, like a pin. It can holt the entire installation, delaying the project for the client" added Amer Sneij.  Once the workflow was developed, two  tagging teams were assigned to complete the job on the ground. The teams are comprised of a Logistics Manager, two Logistics Supervisors, two Welders and four Logistics helpers. The teams have successfully tagged 200 tower cranes from July to September 2020 and aims to complete Phase 1 by Q1 2021. The next phase will be to track all construction hoists.
In crisis mode, it is vital to be as proactive as possible. IoT and telematics solutions alleviate the pain in searching for reactive answers through prevention and protection while optimizing processes and controlling costs. There is no better time to invest in Technology than now!
End.
Sources:
https://constructionexec.com/article/construction-tech-trends-to-watch-in-2020
https://constructionexec.com/article/smarter-construction-with-iot
https://constructionexec.com/article/three-ways-fleet-telematics-are-optimizing-construction-in-the-new-normal