The new coronavirus outbreak has hit the economy hard. With businesses closing, city curfews, manufacturing shutdowns, there has been a detrimental effect on the global economy.
With social distancing and stricter stay at home policies being rolled out to contain the spread of COVID 19, the construction industry, across the globe, has been indirectly affected amidst this pandemic. Where some private construction sectors have implemented remote working which will result in impacting essential administrative procedures for site work to progress, others continue functioning 'as usual' in the UAE.
Amid the worldwide spread of the coronavirus (COVID-19) and the drastic measures taken by authorities to restrict travel and economic activity, confidence levels among construction industry executives have plummeted, according to GlobalData's latest confidence survey. The Construction Confidence Index (CCI) in Q1 2020 fell to 34.6 points, down from 56.9 in Q4 2019. This marks the seventh consecutive decline in the CCI score, and is the lowest level recorded over the past four years. Confidence levels were already steadily declining, having dropped steadily over seven successive quarters, but this is the first time since the survey started (in 2014) that the CCI score has actually dropped below the 50-point mark, which implies that industry executives are pessimistic about the opportunities for growth in the coming six months. Also for the first time, confidence levels with regards to prospects of growth at the company level have dropped below the that recorded for prospects at the industry level, reversing the previous trend of respondents' perception bias possibly overstating the company's relative competitiveness.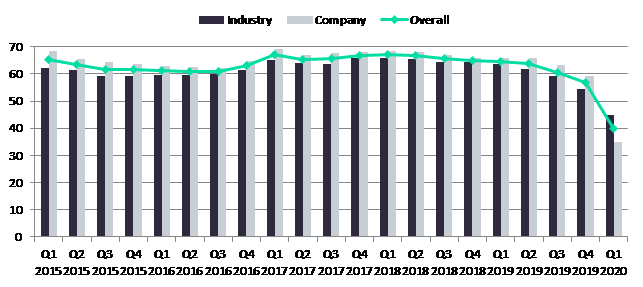 Given the severe disruption in China and other leading economies worldwide following the COVID-19 outbreak, GlobalData's forecast for construction output growth in 2020 has been revised down to 0.5%, compared to the previous forecast of 3.1% growth (in the Q4 2019 update).
This is provided that current forecast is based on a relatively positive central scenario that the outbreak is contained across all major markets by the end of the second quarter, further cuts to the growth forecast are likely.
The impact on the industry in the short term will be reflected in the halting of projects in execution, in terms of shutdowns and lack of materials and other issues relating to supply chain disruptions, as well as severe delays in progress on projects at pre-construction stages, given likely delays in processing of building permits, tendering and contract awards.
GlobalData recently surveyed construction industry executives globally to gauge the extent to which they have been subject to the impact of COVID-19. Notably, 68% agreed or strongly agreed that the COVID-19 outbreak had led to a halt in construction work, while 79% agreed or strongly agreed that it had led to delays in the commencement of new projects. The risk of project cancellations is also high. The survey shows that 49% of respondents agreed or strongly agreed that COVID-19 had resulted in project cancellations.
The UAE Scheme
Global economic activity has slowed sharply following the rapid spread of the virus. The pandemic has caused business closures, city curfews, travel bans, financial market upheavals and manufacturing shutdowns in major global economic hubs. To aid industries, the Central Bank has introduced an AED100 billion Targeted Economic Scheme. This scheme aims to "to contain the repercussions of the pandemic COVID-19". Out of the AED100 billion, 50 billion DHS will be set aside for all UAE banks at zero-cost so that they can boost their lending capacity.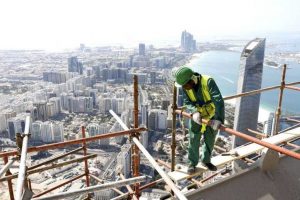 This package is intended to support banks and businesses during the Coronavirus crisis for up to six months. Experts in the field say this package will be beneficial for the local construction sector, which includes small and medium-sized design and contracting enterprises.  The UAE government has managed to suspend social activities without a severe effect on economic output. In the construction sector, remote working, which some private sector employers in the UAE have voluntarily offered, could impact administrative procedures that are essential for site works to progress, such as sign-offs and schedule management.  Meanwhile, even though cargo travel currently faces fewer restrictions than passenger flights, supply chain disruptions are likely to deepen in the weeks ahead. China – the world's largest exporter and the epicentre of COVID-19 – has only just begun a slow recovery after its factories were shut down for almost two months to curb the spread of the virus.
What about Expo2020 starting this October? The Expo 2020 Dubai has addressed in an official statement – concerns about its plans and preparations – amid the novel coronavirus outbreak. Expo 2020 Dubai Steering Committee stated that it is exploring the possibility of pushing the big show by one year: "While everyone involved in Expo 2020 Dubai remains firmly committed, many countries have been significantly impacted by COVID-19 and they have expressed a need to postpone Expo's opening by one year, to enable them to overcome this challenge", adding that it closely monitoring ongoing developments and taking all sensible precautions to manage and mitigate the risk to all those involved while adhering to the guidelines issued by the Dubai Health Authority, Ministry of Health and Prevention (MoHAP), and World Health Organisation, with due diligence.
Workers Safety is nothing new
All construction sites have undertaken the necessary precautionary measures such as maintaining hygiene and adding hand sanitiser stations throughout the sites, some sites are even checking people's temperatures before entering as well as maintaining proper PPE. Since most workers are working outside, this should be the safest means of work. However, caution needs to be taken in camps, bus and rest areas.
Churning out Solutions 
Despite the levels of uncertainty, steps are being taken by all contractors and businesses to be as prepared as possible for the future effects of the crisis.  Construction sectors are working closely with stakeholders to identify the greatest risks and coordinate their efforts to prevent the impacts that may arise. Much stricter hygiene and sanitisation regulations are being implemented by all firms to keep their workers safe on site. Some firms are testing smaller groups of workers present on the sites at a time.
Solutions such as asking workers to maintain a set amount of distance amongst themselves, cleaning out job-site trailers on a regular basis daily, and hiring commercial cleaners to clean and disinfect areas of the project can prove highly beneficial when it comes to flattening the curve while still going forth with regular construction activities.
Online communication applications such as Microsoft Teams and Zoom are an added perk since firms do not have to put a complete halt to their meetings with clients, subcontractors, and other business partners.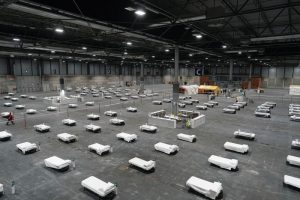 It is anticipated that the timeline will  be at least 10 months away, meaning that hygienic and exposure-control measures will continue to be the first line of defense for most governments.  In many countries around the world, hospitals or care facilities are emerging over night as the number of infected cases increased.
The Chinese Scheme
China has resumed construction on just under 90% of 'key projects' according to an official with the National Development and Reform Commission (NDRC). Construction of 89.1% of 11,000 key projects is ongoing – although this figure does not include the Hubei Province which suffered large numbers of people being infected with Coronavirus. About 60% of workers have gone back to the construction sites, but that does not mean they're all working. Because of the logistical problems facing the industry, construction materials cannot be delivered to sites. Less than 50% of tower cranes are operating because not enough skilled workers have come back to work. In Shanghai, for example, less than 80% of projects have started back up for local contractor Shanghai Construction Group. For other contractors, it's less than 50%. Dealers have been struggling with a lack of cash flow for the last two months. But to cope with the return of the market, in particular the excavator sector, in March a number of excavator dealers have been recruiting additional staff. With the encouraging policies for construction activity, the dealers are more confident and in a better position than businesses in other industries.
The European Scheme
Almost one third of CECE (Committee for European Construction Equipment) members included in a survey are being "significantly affected" by the COVID-19 pandemic with 30% already closing factories, a new survey published by the CECE on March 23 and 27. The CECE represents the interests of national construction equipment manufacturer associations in 13 European countries including some 1,200 companies that employ approximately 300,000 people directly and indirectly. The flash Barometer survey carried out between 23rd and 27th March shows clear concerns amongst CECE member companies with 32% of respondents being significantly affected by the crisis and 30% already closing factories. The report states that "the COVID-19 pandemic challenges the customer-related issues, namely shutdown of construction sites and cancellation of projects. With 40% of respondents foreseeing between 10% and 30% decrease in sales one thing is certain: the COVID-19 crisis is affecting and will affect the construction equipment sector.
Manitowoc has suspended production in some of its factory namely in Europe and China and notified partners that: "[they] may experience disruption to the supply chain which could impact our performance to you.  We will continue to work to ensure there are no disruption to our operations, but as you will appreciate we can't guarantee this, so please be prepared for possible delays to deliveries.".
Terex on the other hand had issued a statement regarding COVID-19 on March 18, stating that "production is still occuring but steps have been taken to ensure the safety of its team members, customers and communities. At Terex, our top priority is safety. As a global organization, we have manufacturing and support sites in many parts of the world, including some greatly impacted by coronavirus COVID-19 – China, Italy and locations in Washington State (U.S.)"
Nonetheless, the CECE survey adeed that, "as there was a solid demand for construction machinery before the crisis and many projects were shut down but not cancelled, CECE is optimistic about the possibility for the industry to recover as soon as the virus is defeated."
The UK Scheme
The UK's Civil Engineering Contractors Association (CECA) said today it had received government advice that construction in England can continue if it can be done safely and in accordance with Public Health England (PHE) guidance. The UK's Construction Leadership Council (CLC) and three of the main building and construction bodies in the UK have urged that construction sites remain operational during the COVID-19 crisis. In a letter to the prime minister Boris Johnson, the Council said keeping construction working would avoid many thousands of job losses and prevent the closure of thousands of businesses and delays and cost increases on important projects: ""If construction activity comes to halt, given the scale of employment provided by our sector, there would be an immediate need for the Government to provide emergency financing to keep the construction industry operational and prevent irreversible damage to the economic security of millions of people."
The US Scheme
The Associated General Contractors of America (AGC) has been urging the Department of Homeland Security (DHS) to declare construction an essential industry. With this declaration, construction projects can continue to support critical infrastructure and economic activities, in a way that protects workers and the general public from the spread of coronavirus.  Meanwhile, the AGC launched a survey on March 27th which reported that 39% of contractors had been affected by project owners holding or cancelling current construction projects amid deteriorating economic conditions.  In addition, 45% of the 1,640 respondents reported experiencing project delays or disruptions. Shortages of material, parts and equipment, including vital personal protective equipment for workers such as respirators, were reported by 23% of respondents, while 16% said projects were delayed by shortages of government workers needed for inspections, permits and other actions. A total of 13% said delay or disruption had occurred because a potentially infected person had visited a jobsite. Association officials warned these cancellations mean massive job losses are likely soon unless Congress passes targeted recovery measures to boost infrastructure funding, compensate firms for lost or delayed federally funded work and provide needed pension relief. An example of government support is the decision to expand unemployment benefits as nearly 10 million Americans have lost their jobs because of the coronavirus, and this number is expected to grow as the pandemic expands in the US.
The new coronavirus is said to be a health and an economic virus. It is a time for unity, cooperation, and solidarity. Being an evolving situation, the industry has to ensure that they are up to date on decisions by public officials in the regions where construction projects are still ongoing. As construction work continues to go on amidst the fear and panic, workers and businesses will need to be flexible in their approach. The Covid-19 pandemic will force businesses,governments and communities to adjust their existing processes, and will forever change the current construction landscape.
End.
Sources:
https://www.khl.com/international-construction/construction-and-covid-19-rolling-news-update/142849.articlehttps://www.khl.com/access-lift-and-handlers/terex-issues-covid-19-statement/142874.articlehttps://www.khl.com/construction-europe/uk-construction-wants-sites-to-remain-open/142869.articlehttps://www.khl.com/construction-europe/german-construction-continues-through-crisis/143046.article?utm_source=newsletter&utm_medium=email&utm_campaign=Construction+and+Coronavirus+-+25th+March+2020&utm_term=C%26Chttps://www.khl.com/international-construction/china-speeding-up-construction/143022.article?utm_source=newsletter&utm_medium=email&utm_campaign=Construction+and+Coronavirus+-+25th+March+2020&utm_term=C%26Chttps://www.khl.com/construction-europe/uk-construction-can-continue-if-safe/143043.article?utm_source=newsletter&utm_medium=email&utm_campaign=Construction+and+Coronavirus+-+25th+March+2020&utm_term=C%26Chttps://www.khl.com/international-rental-news/coronavirus-rental-news-round-up/143012.article?utm_source=newsletter&utm_medium=email&utm_campaign=Construction+and+Coronavirus+-+25th+March+2020&utm_term=C%26Chttps://www.constructionglobal.com/sustainability/covid-19-set-reshape-uae-constructionhttps://gulfnews.com/photos/news/photos-temporary-hospitals-being-built-around-the-world-to-fight-covid-19-1.1585140561317?slide=1https://construction.globaldata.com/Analysis/TableOfContents/construction-confidence-report—q1-2020https://construction.globaldata.com/Analysis/details/the-coronavirus-action-plan-will-it-help-contain-covid-19-94916-94916https://gulfnews.com/uae/coronavirus-uae-sterilisation-drive-against-covid-19—residents-must-stay-home-1.1585207044856https://www.khl.com/international-construction/exclusive-chinese-crane-owner-on-the-construction-recovery/143122.article?utm_source=newsletter&utm_medium=email&utm_campaign=Construction+and+Coronavirus+-+30th+March+2020&utm_term=C%26C https://www.khl.com/international-construction/new-federal-guidance-suggests-us-construction-could-continue/143155.article?utm_source=newsletter&utm_medium=email&utm_campaign=Construction+and+Coronavirus+-+30th+March+2020&utm_term=C%26C https://www.khl.com/news/exclusive-how-is-chinas-construction-equipment-sector-recovering/143179.article?utm_source=newsletter&utm_medium=email&utm_campaign=Construction+and+Coronavirus+-+31st+March+2020&utm_term=C%26C https://www.khl.com/international-construction/deep-impact-of-covid-19-revealed/143174.article?utm_source=newsletter&utm_medium=email&utm_campaign=Construction+and+Coronavirus+-+31st+March+2020&utm_term=C%26C 
https://www.khl.com/international-construction/us-coronavirus-relief-package-now-covers-self-employed-contractors/143269.article?utm_source=newsletter&utm_medium=email&utm_campaign=Construction+and+Coronavirus+-+3rd+April+2020&utm_term=C%26C