The new coronavirus outbreak has hit the economy hard. With businesses closing, city curfews, manufacturing shutdowns, there has been a detrimental effect on the global economy.  Here's a summary of the report issued by Global Data on April 8th 2020.
Prior to the outbreak, UAE's construction sector had posted growth of 3.3% in real terms in 2019 and was expected to grow by 4.3% in 2020, given various government initiatives such as the Energy Strategy 2050, the Sheikh Zayed Housing Programme and the Dubai Tourism Strategy. However, amid the worsening situation with regards to the COVID-19 outbreak and the decline in oil prices, GlobalData has cut its forecast for construction output growth to 0.5% in 2020 and 4.1% in 2021. This central forecast is based on a positive scenario that the outbreak will mostly be contained in the second quarter of 2020, such that restrictions on travel will be eased thereafter.  Infrastructure projects are a key part of the UAE's economic expansion, but there are risks to investment growth owing to weakness in the oil sector, which poses a downside risk to the forecast. Sheikh Mohammed bin Rashed Al Maktoum, Vice President, Prime Minister and Ruler of Dubai is intent on going ahead with the implementation of all planned national projects and value-added initiatives.
People who work on construction projects in Dubai are exempted from the 24-hour Sterilisation Programme but are subject to obtaining a permit from Dubai Municipality and the Permanent Committee for Labour Affairs.  However, Dubai-based Emaar, the biggest developer in the Emirate, has suspended construction work on various projects and introduced a new salary structure amid the economic disruption caused by the novel virus and lockdown policies in place. Work has been suspended on projects in Downtown Dubai, Dubai South and Dubai Creek Harbour. The government's economic and fiscal policies will continue to be partly guided by global oil price movements, as the emirate of Abu Dhabi, which funds a major share of federal spending, is still heavily reliant on oil revenue.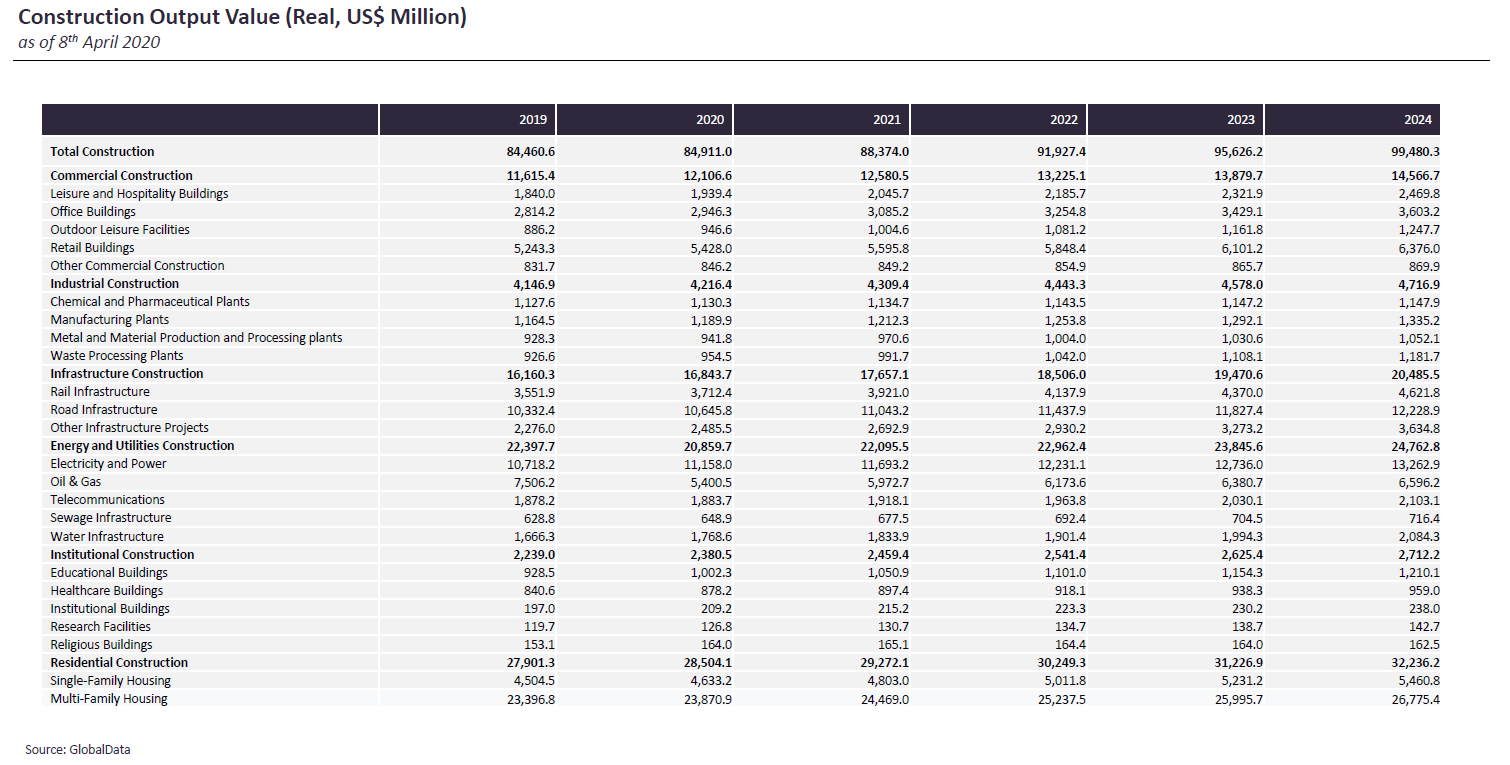 ADNOC, the state run oil company of Abu Dhabi, has notified contractors and suppliers that it will review existing deals to find ways to cut costs due to the steep slide in oil prices. ADNOC announced it would raise its oil supply to a record 4 million bpd in April, about 1 million bpd more than current output as it speeds up production capacity expansion projects. Italian E&P oil major ENI, one of ADNOC 's main partners in major upcoming projects, has recently declared plans to review all ongoing projects in the Middle East. It has announced to reduce 2020 and 2021 capital expenditure by US$2.2 billion and about US$3 billion, equivalent to 25% and 30% of its initially planned amount, respectively.
Construction in the energy and utility sector will feel the brunt of plunging oil prices. Abu Dhabi's energy department postponed the announcement of winning bids for a solar power plant and is monitoring energy prices and supply chains. A plan by the Abu Dhabi National Oil Company (ADNOC) to launch a new benchmark for its flagship Murban crude oil grade may be delayed beyond June as it awaits regulatory approvals amid current uncertain market conditions, this constitutes a hit for the energy market in Abu Dhabi.
Investment activity is likely to slow in the UAE as investors react to uncertainty, with the retail and hospitality sectors being the most affected. The commercial sector in Dubai, the region's most diversified economy, has been hit hard by the disruption to global travel, with tourism expected to lose 5%-6% of GDP this year if virus containment measures were to last for another three to four months. Expo 2020, which Dubai is to host, is also in doubt after the event's organizers backed a proposal to postpone it for a year due to the pandemic. However, postponing the event for 2021 could be positive as many construction companies would then have more time to complete their projects and the pandemic should have passed with the world being ready to emerge from extended periods of lockdown and social distancing. It would also give the Emirate ample time to repurpose the event, to coincide with the 50th anniversary of UAE as a nation, with leaders planning to deliver a road map for the next 50 years in all sectors from infrastructure and economy to health and education.
Abu Dhabi's hospitality sector, which has been a hub for hosting various types of events in 2019, attracting tourists and boosting the sector in the city, will also face the brunt of the contagion. The demand for hospitality sector in Abu Dhabi is expected to severely be impacted as new upcoming events, such as the F1 Grand Prix, and festivals scheduled for the year 2020 will be cancelled, which will affect the commercial sector in the city and potential derail future investment plans.
The residential sector in the UAE will be hit hard as a result of the outbreak. The sector has been facing headwinds in recent years, which GlobalData expects to intensify 2020, affecting investment flows into real estate from the wider region. The effects of this will be felt heavily in Dubai. Prior to the outbreak, the Dubai government had taken steps to limit future supply, with the formation of a new Real Estate Planning Committee in Q3 2019 to study the real estate market, evaluate all future projects and control the pace of projects. Developers are launching fewer new projects, which will be further re-assessed in light of the outbreak and focusing on the sale of existing inventories.
End.
Source: https://construction.globaldata.com/Analysis/details/covid-19-sector-impact-construction—uae